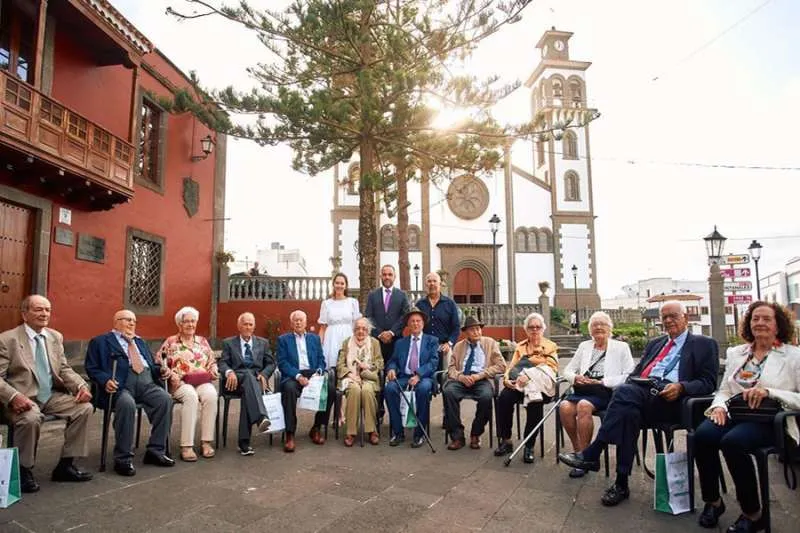 World record for 12 brothers and sisters with a combined age of 1,057 years old
La Villa de Moya in Gran Canaria, has recorded the Guinness record for the highest combined age for living siblings anywhere in the world. The seven brothers and five sisters all aged between 76 and 98 years old, were born to Modesto Hernández and Martina Pérez, and have a combined age of 1,057 years.
Luis, Miguel, Gloria Hortensia, Francisco Manuel, Ángela, Modesto Pedro, Amada del Pino, Rosario Ofelia, Juan, María del Carmen, José Santiago and Alejandro, registered before a notary accompanied by the mayor of Villa de Moya, Raúl Afonso; the parish priest, Roberto Rivero, and María del Pino Ojeda, a historian.
The first one to be born was José Santiago Hernández, who came into the world on December 30th, 1924, and over the years he saw his family grow and he accumulated brothers and sisters, until in 1946, the youngest sibling, Luis Hernández, was born.
The twelve of them toured the streets of the municipality with the mayor, reliving childhood memories where they used to play, and that they have seen evolve, but that will always remind them of their childhood and youth.
The Hernández Pérez siblings wanted to ratify their Guinness World Record in a place that for them will always be their home, Moya. They are an example of traditional values, that they now transmit with the tranquillity and wisdom that the years give, values ​​that have accompanied them throughout these years.