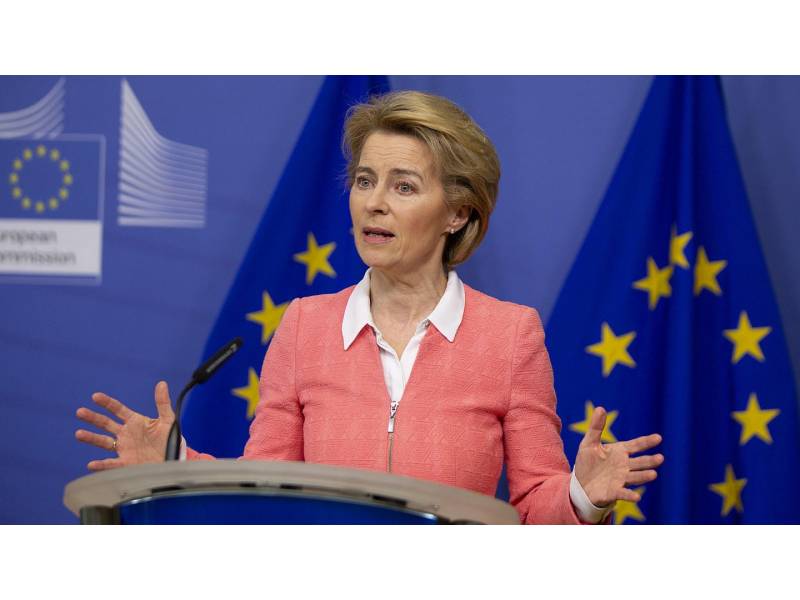 EU calls for mandatory vaccination against coronavirus to be 'discussed'
The president of the EU Commission, Ursula von der Leyen, has requested a "discussion" within the Union to put forward the notion of making vaccination against the coronavirus mandatory to those people who are able to have it, to counteract the resistance of part of the 150 million people who have not been inoculated, which includes Spain and Ireland.
According to the latest data from Brussels on Wednesday, 76% of the adult population in the European Union has already been fully vaccinated against Covid-19.
This means in general terms that 66% of the total European population is fully vaccinated, but that there is also a third, that is 150 million EU citizens, who are not, despite the fact that "a large majority could, and only a relatively small percentage can't for health reasons.
"I think it is understandable and appropriate to have this discussion now, to see how can we encourage and potentially think about mandatory vaccination within the EU. It is necessary to discuss it and have a common approach", said Von der Leyen at a press conference in Brussels yesterday.
She wanted to emphasize that it is her personal opinion because she does not have the power to make "any kind of recommendation" on this matter to the member states, which are the ones who have exclusive powers in health matters.
However, the former German minister and physician by training added that there are "life-saving vaccines in a horrible pandemic, and yet they are not being used appropriately everywhere."
For this reason, Von der Leyen requests that member countries continue with their vaccination campaigns and speed up the inoculation of the booster dose to the entire vaccinated population, something that she said is assured with the 360 ​​million doses of vaccines available to the EU by the end of the first quarter of 2022.
The latest purchase contracts negotiated by Brussels with Pfizer and Moderna, foresee having enough vaccines to reinforce the protection of Europeans, adapt the formula to new variants such as omicron, and also produce serum to immunize minors.
"Complete vaccination and booster doses provide the strongest protection against Covid that we have right now," warned Von der Leyen, who has also asked not to relax preventive measures such as the use of a mask, hand hygiene, and social distancing.
The President of the Commission, together with the Commissioner for Health, Stella Kyriakides, have warned that the omicron variant seriously worries the EU due to its high number of mutations, despite not yet having all the information from the experts regarding its capacity of spread and virulence.