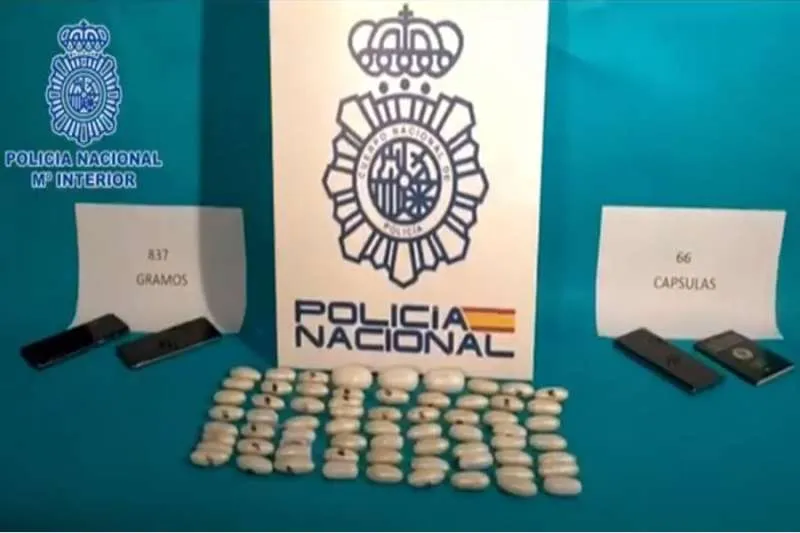 VIDEO: Drug mule arrested in Lanzarote with 837 grams of cocaine
Agents of the National Police have arrested a 33-year-old man at the Los Mármoles dock in the port of Arrecife in Lanzarote, when he was found carrying 837 grams of cocaine in 45 wraps in his body and a further 21 hidden in his luggage, with a street value of more than 50,000 euros.
According to the police report, the man, from Guinea Bissau who has a police record, was stopped at the dock during a routine patrol of an inter-island ferry because he was acting nervously and not responding coherently to the questions that agents asked him.
For this reason, he was transferred to the police station for further questioning and a search. As you can see in the video, they found two tetrabriks in his luggage with 21 cocaine capsules hidden inside.
Due to this, agents suspected that he might be carrying wraps of narcotic substances in his body, so they requested that he have a radiological test. The result of this determined that he was carrying another 45 capsules inside his body.
After the corresponding proceedings were completed, the detainee was placed at the disposal of the Investigating Court number 2 of Arrecife, which ordered his immediate imprisonment.
The National Police released a statement saying that, in its work to prevent drug trafficking, they have been carrying out preventive controls at the Lanzarote airport, but as a consequence of this, those responsible for this type of criminal act have been forced to use the sea route as an alternative to introduce narcotics onto the island, which is why controls are being intensified at the ports.
Other articles that may interest you...