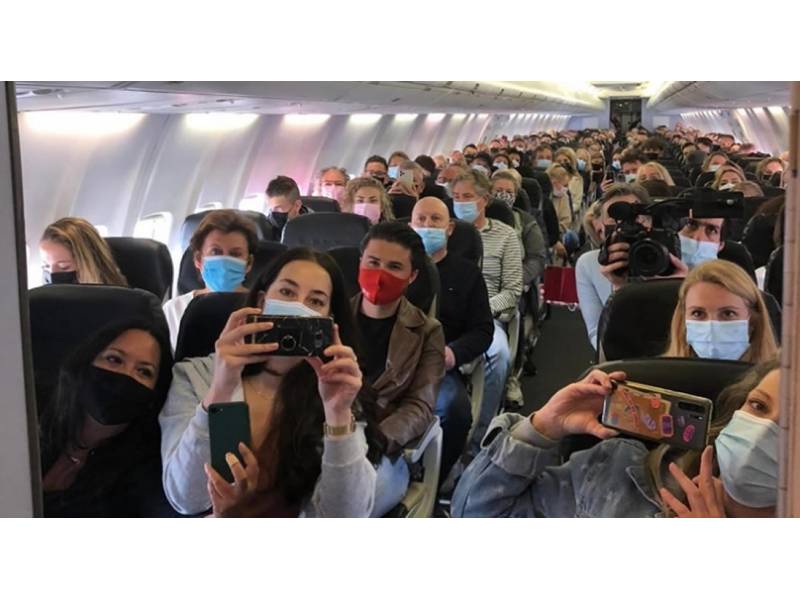 177 Dutch tourists arrive in Gran Canaria on TUI Nederland 'pilot trip'
Gran Canaria received 177 Dutch tourists yesterday afternoon who participated in the 'pilot trip ' organized by TUI Nederlands and the Corendon airline, 90 from each company, were selected from more than 68,000 that registered to take part (45,000 registered in the first two hours). Three of them were unable to travel as they tested positive in the mandatory PCR test before the trip.
The objective of this initiative is to demonstrate that the protocols work in practice and that it is possible to travel abroad safely and calmly this summer, confirms Arjan Kers, general director of the tour operator, who said the fact that the three positives were detected is "good, since they were detected before leaving and that this is the objective of the tests."
After arriving in Gran Canaria yesterday afternoon, they will be staying for a week 'all-inclusive' at the RIU Club Gran Canaria, located in Meloneras near to Maspalomas, in the municipality of San Bartolomé de Tirajana.
This is the second time that the Government of the Netherlands has authorized such a trip. Unlike the first 'pilot trip' organized by Sunweb and Transavia to Rhodes (Greece), this time tourists will be able to leave the hotel and move freely around the island.
Of course, as happened during the first, travellers will be evaluated before their departure, and before their return. In addition, during their stay, they will have to fill out a questionnaire several times.
With this trip, Gran Canaria is the first Spanish destination to receive Dutch tourists since December, and these expedition trips are of vital importance for the Dutch travel industry which has been paralyzed since then. It's not that they just recommended avoiding nonessential travel until May, but tour operators are failing to sell holidays.
Other articles that may interest you...
Kers emphasizes that they are sure that the whole trip it will work well and that the protocols in Gran Canaria are of the highest level. "We are going to a destination where they have everything better controlled than in Holland itself," he said in an interview with TravMagazine at Schiphol airport before the flight left. In it, he also highlighted that the destination is not very crowded: "Currently, only 30% of the hotels in Gran Canaria are open, with an average occupancy of 40%. Therefore, it is very likely that you can walk on an almost empty beach and that you can easily find a free sunbed".