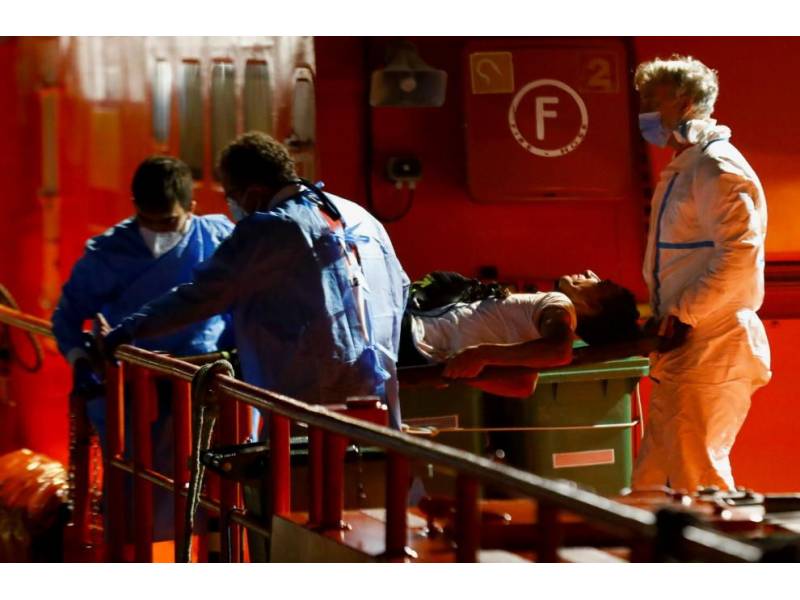 Eight more people die crossing the Atlantic to get to the Canary Islands
The waters of the Canary Islands are becoming a tragic cemetery as far as the migratory crisis is concerned, since the reactivation of the so-called 'Canarian Route', used by people trying to escape Africa in boats called pateras which are nowhere near suitable or safe for the crossing, after the short route from Morocco to the south of Spain was closed off in August 2019.
The number of boats, the number of arrivals, and the number of fatalities continues to increase, with over 800 people (that we know of) killed in that period. Eight more people have died this weekend, and nothing is still known about a zodiac that left over a week ago with 55 people on board, that at last contact with those on board, was said to be at risk of sinking.
The truth is, that it could be even worse if that were possible because only the great work carried out by Maritime Rescue and the Guardia Civil has made it possible for almost 500 survivors to arrive this weekend to the Canary Islands. Among them, as well as among those who did not succeed, the number of women and children, and even babies, is increasing.
But this time the efforts of the rescue teams could not prevent the aforementioned death of those eight people who were looking for a better life, sailing in a boat located 65 kilometres south of Gran Canaria on Saturday night.
A French yacht that was sailing through the area initially alerted emergency services to the presence of the patera, which it tracked until a merchant ship monitored it, at the request of Maritime Rescue, until they got there.
The group was rescued at 9:30pm with seven deceased among the occupants of the boat, and another three in a serious condition, for whom a helicopter was sent to take them as quickly as possible to hospital. Maritime Rescue brought the boat to the dock in Arguineguín at just after midnight, which now had eight dead on board, as one more died on the way. As of this morning, twelve are in hospital, three of them in very serious condition.
Regarding the rest of the irregular immigrants who survived the crossing this weekend, a good number of them were assisted by Maritime Rescue between Friday night and Saturday morning, with a total of 242 people heading to the Archipelago in five boats.
Saturday night was that of this new deadly patera, but in addition, another one was located 24 kilometres from Gran Canaria with 36 people of Maghreb origin, 34 men, a woman and a child.
Yesterday, Sunday, a mother and her baby were rescued travelling with 39 men, all of Maghreb origin, who had called for help around 8am when they ran out of fuel in waters 40 kilometres north of Lanzarote. One more boat with 32 other people was also assisted yesterday 27 kilometres from the Maspalomas lighthouse, south of Gran Canaria.