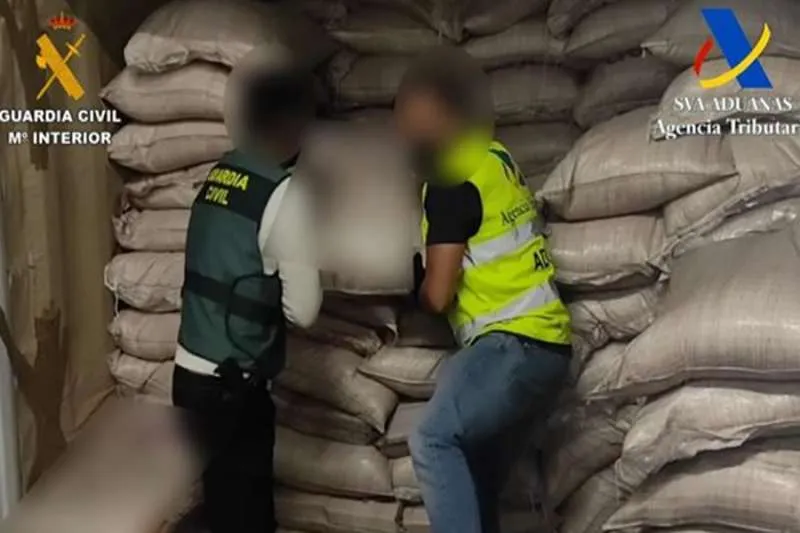 VIDEO: 215 kilos of cocaine found in a container in Las Palmas port
The Guardia Civil at Puerto de La Luz in Las Palmas, along with the Tax Agency, have seized a container from Brazil with more than 500 sacks of white crystal sugar inside it, in which were hidden 10 packages of cocaine weighing 215 kilograms.
The discovery was made thanks to surveillance carried out jointly by the Guardia Civil and the Tax Agency in the port, who noticed discrepancies on the paperwork for the declared merchandise, which had left the port of Santos in Brazil heading for Africa, so looked further and made a search of the container.
During their inspection, they found 500 sacks of white sugar in the container but noticed that 10 of them had irregular shapes compared to the rest, which aroused the suspicions of the agents, so they were separated and opened.
Once the substance was extracted from the bags, they were taken to the Guardia Civil offices and a sample of each was subjected to a narcotic test and tested positive for cocaine.
The estimated value of the haul is estimated at 7.6 million euros to the smugglers, with a street value of almost 13 million euros. The police findings have been made available to the Court of Instruction in Las Palmas de Gran Canaria who are opening an investigation to uncover the people behind the trafficking.
Other articles that may interest you...