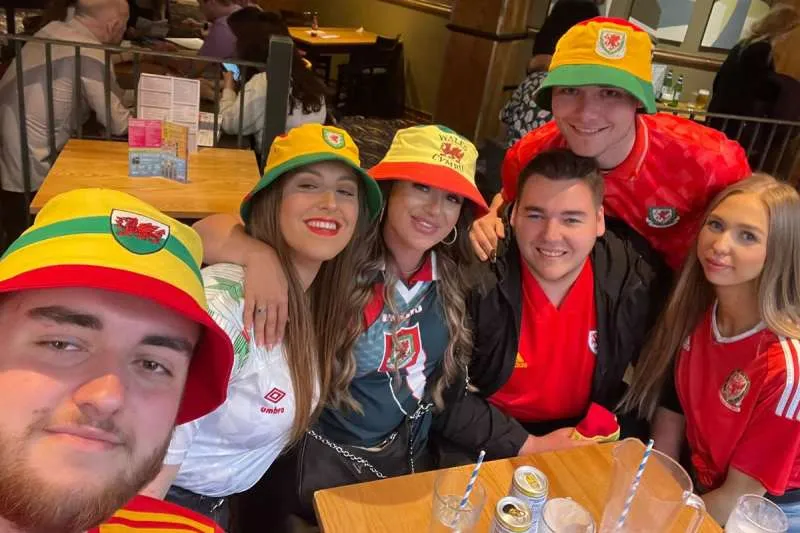 The Welsh are coming! Over 2,000 fans descend on Tenerife for the World Cup
Over 2,000 Welsh fans have arrived in Tenerife this weekend World Cup after being priced out of going to Qatar following a 64-year wait to see their team compete in the tournament. The Red Wall, as they are affectionately known, have been getting creative to celebrate the significance of their national team qualifying for the World Cup this year.
The Welsh, complete with bucket hats, have decided to head to Tenerife to watch their national team after being deterred by the extortionate cost of heading to the Middle East and the alcohol restrictions in Qatar.
Bethany Evans from Caerphilly had initially considered travelling to the Middle East but after discovering the trip would cost her around £3,500 she decided to re-create the World Cup atmosphere elsewhere, so booked a trip to the Canary Islands at a fifth of that price, at £700.
She said: "It literally started as a joke that I made on Twitter. The day we qualified I was looking for flights and things to Qatar and wasn't able to get any quite cheap. So I just posted on Twitter for a joke, 'does anyone fancy Tenerife, it's still warm and cheap?'"
Thousands of Welsh fans jumped on board so she made an official group on Facebook and made deals with local bars that will host the fans during the tournament, and the venues have decorated their bars accordingly in anticipation of their arrival, supporting Wales in the tournament.
Bethany said: "I've made arrangements with two bars that have agreed to host Wales fans. They've kitted out their bars in everything Wales, flags, bunting, etc, hired in catering companies for food, and also a lot bought a lot of extra beer in, they said, for us."
While she has gone to considerable effort to enjoy the World Cup abroad, she said just being surrounded by other Welsh fans during a pivotal moment in their footballing history would be unforgettable.
"It's amazing in all honesty. I think regardless of where I get to watch the game, the fact that I'm going to be surrounded by Wales fans, watching the first World Cup that I've seen Wales playing, it's just absolutely amazing and it's something that I'll never forget," she added.
"Knowing that I've arranged something that is going to have that effect on other people as well is absolutely insane. This could be people's first or even last World Cup that they ever get to see Wales play and that feeling is something that I will never forget."
Other articles that may interest you...