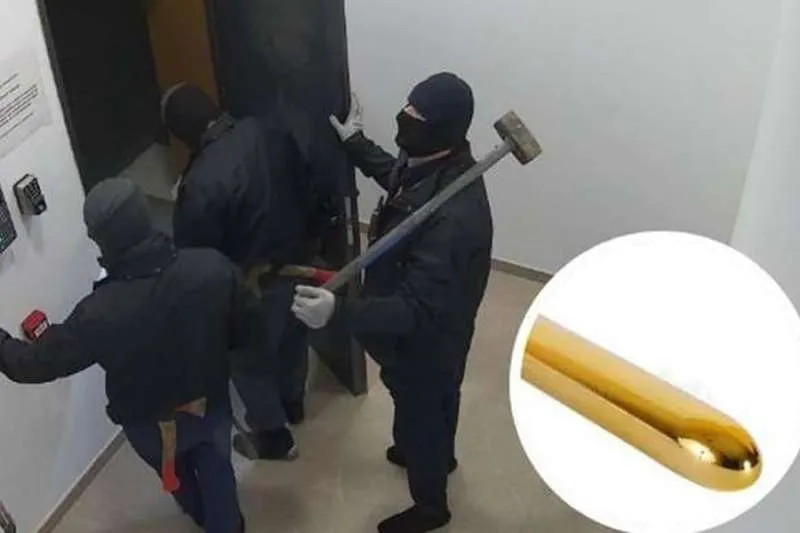 Seven gold plated 'sex toys' worth 100,000 euros are stolen from Spain's largest distributor
Thieves have stolen seven 24-carat gold-plated vibrators worth 120,000 euros after breaking into the headquarters of Dreamlove, Spain's largest distributor of sex toys, in a logistics park in Carmona (Seville).
According to the firm's calculations, each one was worth 17,000 euros and was in the company's safe due to their value, which thieves smashed with an axe during the robbery, taking 25,000 euros in cash as well the sex toys.
Security cameras caught the thieves at 11.40pm and footage shows three hooded men arriving at the main door, smashing it open, and searching the entire 5,000m2 building until they found the administration office, where they searched for the safe.
In total, the assailants spent no more than half an hour inside the Dreamlove headquarters while three other people kept watch from a vehicle outside.
Sources involved in the investigation believe the thieves probably did not know that, in addition to the money, they were going to find the valuable golden vibrators, and that they belong to an organised group since the attack was "very professional".
They explained how the thieves closed off the street with fences to avoid being disturbed or discovered and turned off the street lighting. Based on this modus operandi, investigators think that this is the same group that has robbed other companies in the same business park on two previous occasions.
The owner and CEO of the company, Mario Romero Molina, has explained that Dreamlove is the only company in Europe which had a "significant stock" of the gold vibrators, as their high price makes them a "risky investment". Despite this, they had chosen to stock them for a particular luxury market that they say exists in Marbella and Paris.
However, he also believes that it will be very difficult for the thieves to dispose of the stolen items because they are very rare and easily identifiable, adding that there is no black market for them. The most likely scenario, according to sources involved in the case, is that the gold will be extracted from the vibrators and sold separately.
Dreamlove, which employs 74 people, has been operating since 1st August 2022 in the Carmona logistics park. The company has invested 3.5 million euros in its new facilities, which have robots on their distribution lines. With an annual turnover of 18 million euros, it is one of the leading companies in Europe selling sex toys, lingerie, and edible items.
It has seen a year-on-year growth of 40% and as well as selling in Spain, and much of the European Union, the company also exports its products to the UK, USA, South Africa, and Hong Kong, among other places.
Other articles that may interest you...