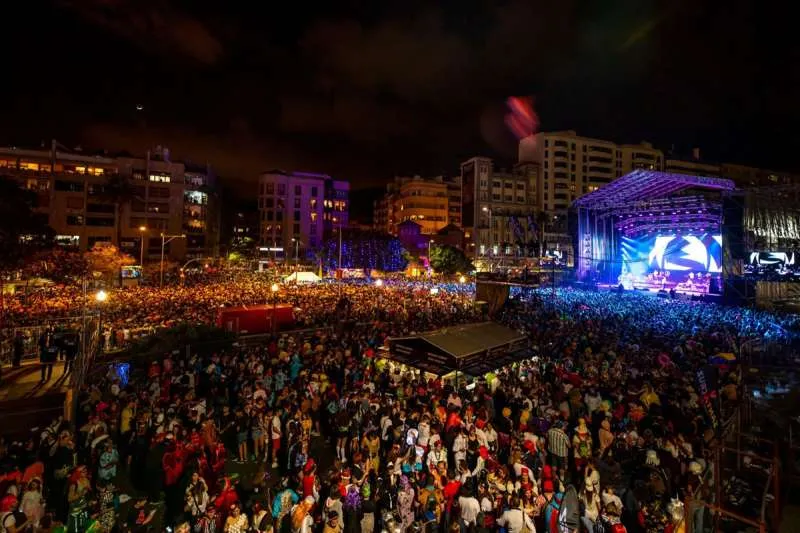 Santa Cruz is preparing for 800,000 people in the 4 days of the Carnival street parties
The Santa Cruz Carnival is already halfway through its schedule and is heading into the final stretch with the most anticipated celebration in Tenerife for almost three years. Yesterday, the centre of the city was a hive of activity with the assembly of stages, the installation of the first kiosks, the portaloos are in place, and the electrical generators have been installed, in short, everything is ready for the street Carnival to start on Thursday.
On the way is four days of practically uninterrupted festivities, in which, according to the forecasts of the organizers, almost 800,000 people could be partying in the capital, although a more realistic forecast is 640,000 people, but either way it's a big party.
According to the Councillor for Fiestas, Alfonso Cabello, these figures come from the forecasts they have for public transport, which will take around 80,000 people a day to the city; Fred Olsen and Armas will bring about 25,000 passengers, 12,000 people pass through the fayre every day, and on Saturday 325,000 people are expected between 12 midday and 6am Sunday morning, so add these to the residents of the city and those figures are easily achievable.
With such spectacular prospects, it is not surprising that Cabello acknowledges that he faces these four days with mixed feelings. "Many people tell me to get ready for something big, but objectively I don't know what is going to happen, it is possible that both Thursday and Friday will be like a Saturday night. The numbers we have are forecasts based on transport data and hotel occupancy, but to be honest, on Thursday for the Burial of the Sardine, we don't know, how many people will be there."
"What does seem clear is that there are going to be a lot of people, because all the indicators point to it. Hotel occupancy is at 100%, holiday homes are full,y booked, Binter, Armas, and Fred Olsen have all increased their services, as has public transport, so everything in place for it to be a magical weekend."
For full details of the schedule for the four days from Thursday 23rd June, click here: https://carnavaldetenerife.com/programa-del-carnaval-2022/
Other articles that may interest you...