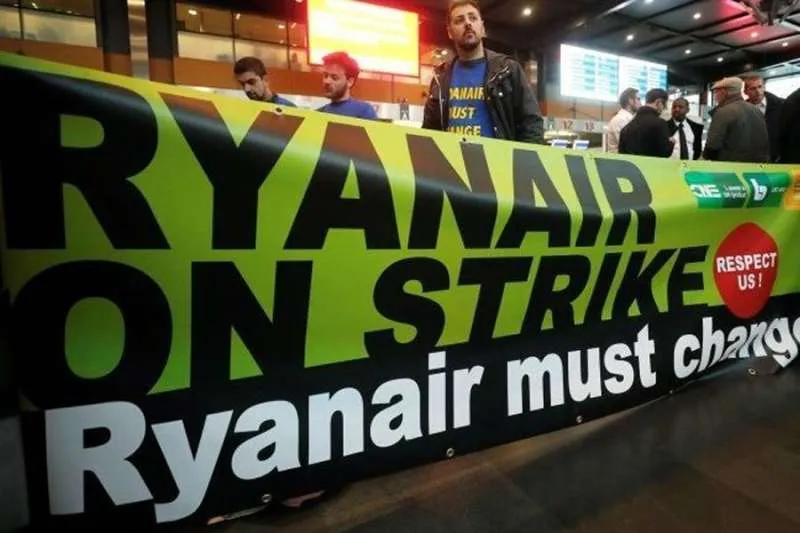 Ryanair cabin crew call for six-day strike that will affect flights to all of Spain
Ryanair cabin crew in Spain have said that they will go on strike for six days at the start of the summer season. The USO and Sitcpla unions announced today (Monday), that the dates for the strike are June 24th, 25th, 26th, and 30th, as well as July 1st and 2nd.
The workers are claiming that "Ryanair has forced this strike" because they have not been able to sign their first collective agreement with the airline, meaning they are forced to "comply with the application of basic labour rights and judicial sentences", announced the unions in a press conference in Madrid this morning.
Approximately 1,200 cabin crew (called TCP) currently working at Ryanair have been negotiating the first collective agreement with the company for the last eight months, but they say that the airline "has left the negotiating table" after failing to reach an agreement.
The general secretary of the USO union at Ryanair, Lidia Arasanz, said that "the airline's crew members continue to be third party workers because their rights continue not to be respected."
The representatives of these workers assure that Ryanair does not have any collective agreement in any of the countries where it operates. It has specific agreements in some countries such as Belgium, Italy, or Portugal, but "they don't comply with regulations either", they claim.
"Ryanair has problems everywhere with all groups of its workers because they fail to comply with everything they agree to and sign," said Arasanz, referring to the conditions of the airline's pilots who, in principle, will not join the strike.
More strikes are not ruled out later in the summer:
Ryanair has signed an agreement with "precarious conditions" for the TCP with the CCOO, a majority union among many groups, but not among Ryanair flight personnel or any airline, the other unions say. This agreement includes points such as a salary increase of 1,000 euros in 2022 and a further 800 in 2023, but according to USO, this is already included in the sentence won in the National High Court that annuls the salary cuts applied "illegally" at the beginning of the pandemic.
The strikes will take place in its ten bases in Spain (Madrid, Malaga, Barcelona, ​​Alicante, Seville, Palma de Mallorca, Valencia, Girona, Santiago de Compostela, and Ibiza) and will be for the full 24 hours on the indicated days.
It is not yet known what the minimum services to which they will be forced to operate will be, and they don't rule out having to call more strikes this summer if the problem continues, both in Spain and in more European countries.
Other articles that may interest you...