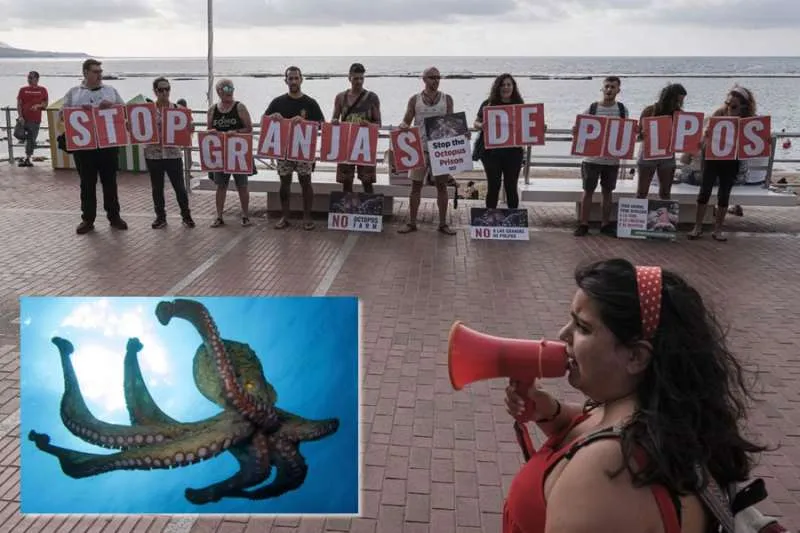 Animal activists protest against the planned octopus farm in Gran Canaria
The animal activist group PACMA, held a protest in Gran Canaria on Friday to stop the octopus farm that is planned for the port of Las Palmas, which according to them, would be the first in the world and "a prison for pulpo (octopus)".
The PACMA leader in Las Palmas, Iris Sánchez, said that they want to "voice their profound and absolute rejection of the project, which goes against the rights of animals".
She continued that "PACMA has the support of entities for the defence of animals worldwide that have expressed their opposition to the initiative, which will just be a prison for octopus."
The protest is part of a campaign started at the beginning of 2022, "we will continue fighting to paralyze this project", she said, "with future initiatives still to be displayed at a European or national level".
Sánchez says that "octopuses must be given a voice and have their rights. PACMA defends the rights of animals against the interests of Nova Pescanova", which is the company behind the new farm.
"As humans, we condemn all species that we live with. We have exploited, enslaved, and mistreated them, and now they want to do the same with octopuses. Octopuses are highly sensitive and intelligent creatures and can feel and suffer in the same way as we do. Putting them in a tiny fish tank would be like a cage for them."
"Octopus are a solitary animal, being forced to live with others will cause them psychological and physical damage".
PACMA, and the entities that support them, want the Canary Islands Government to reject this project, and listen to the outside world which has raised its voice against it, as well as the scientific community that has also expressed its rejection.
Other articles that may interest you...