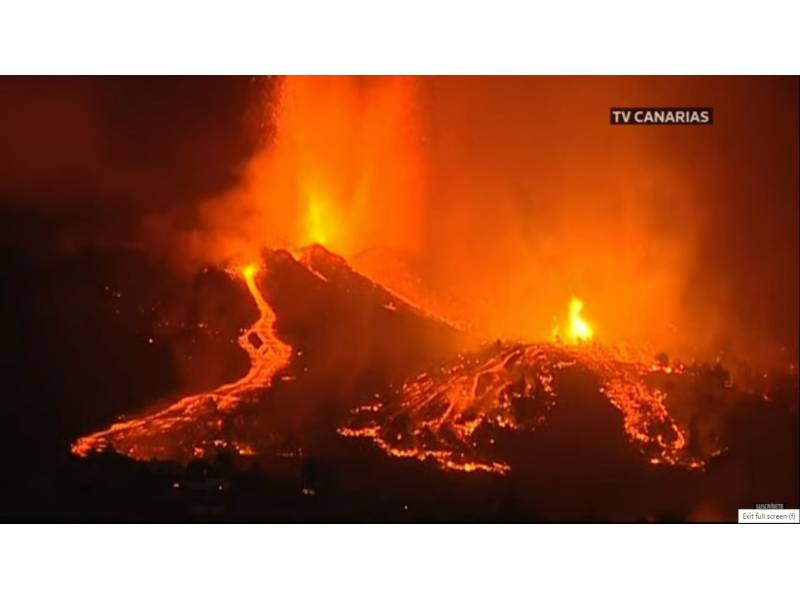 5,000 people are being evacuated from El Paso, Tazacorte and Los Llanos
Following the string of eruptions in La Palma, the Canary Islands Volcanic Emergency Plan (Pevolca) is underway now that the alert has been raised from the yellow to the red alert for volcanic risk. According to the Guardia Civil, the evacuation affects more than 5,000 people from different neighbourhoods in the municipalities of El Paso, Tazacorte and Los Llanos de Aridane, and started with about 300 people who live in Alcalá and El Paraíso, the closest residential area to the eruption.
The Guardia Civil has 11 Citizen Security patrols, 3 traffic patrols, a maritime service patrol and a helicopter deployed in the area. Emergency Services are asking the public to remain calm, close doors and windows of their houses, switch off supplies of water, electricity and gas, carry documentation with them, plus their mobile phone and battery-operated radio, and in case of having pets, must follow the evacuation plan guidelines.
Schools closed tomorrow in three municipalities:
The Ministry of Education of the Canary Islands Government has suspended classes in all the educational centres in the municipalities of El Paso, Los Llanos and Tazacorte as a result of the volcanic activity.
The measure, adopted in coordination with the Cabildo de La Palma, will initially be applied during the day tomorrow, Monday 20th September, although its continuity will be adapted to the evolution of the situation.
Other articles that may interest you...