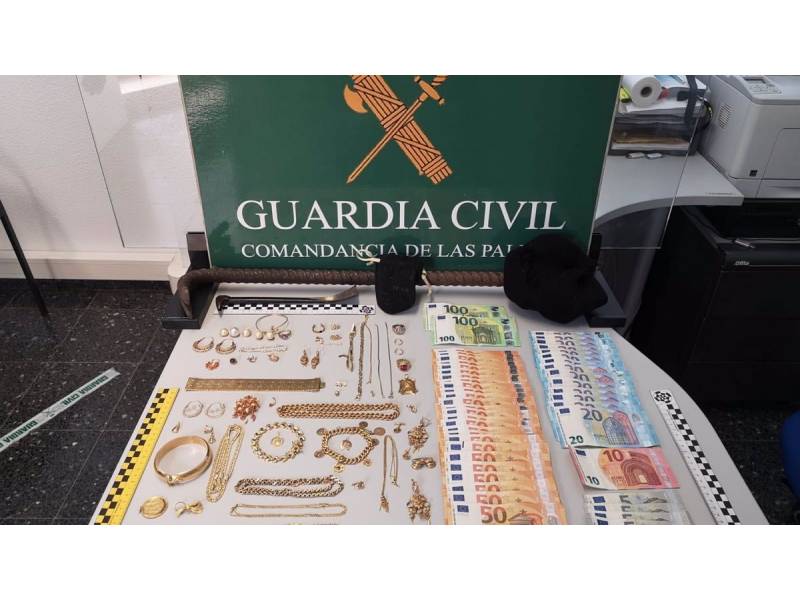 Three arrested for stealing more than 8,000 euros in jewellery
The Guardia Civil of Santa María de Guía in Gran Canaria, has arrested two men and a woman for a house robbery in Gáldar, and for various crimes of fraud committed in the municipalities of Gáldar and Las Palmas de Gran Canaria, which led the agents to recovering jewellery with a sale value of more than 8,000 euros, as well as close to 2,000 euros in cash.
The investigation began in jewellery shops when the Guardia Civil noticed a suspicious sale of jewellery that was reported stolen from the burglary of house in their area. Officers contacted the true owner of the items, a resident of Gáldar, who identified the items and was able to prove they were his.
The victim had made a denuncia to the fact that he found the inside of his house has been burgled and that the jewellery, among other items had been stolen, a few weeks before, and praised the quick action of the police and the fact that they had noticed the fraudulent sale.
After talking to various jewellery shops in Gáldar and Las Palmas, they managed to identify the two men and the woman behind the crimes and arrest them. Subsequently, the Guardia Civil managed to seize several items of jewellery that had not been sold from the stores, as well as more than 1,800 euros in cash carried by the detainees.
During a search of their home they also found various other objects stolen from the interior of the victim's house, as well as tools that would have been used for the burglary. Following this, the detainees and the proceedings were at the disposal of the corresponding Investigating Court acting as guard of Santa María de Guía.