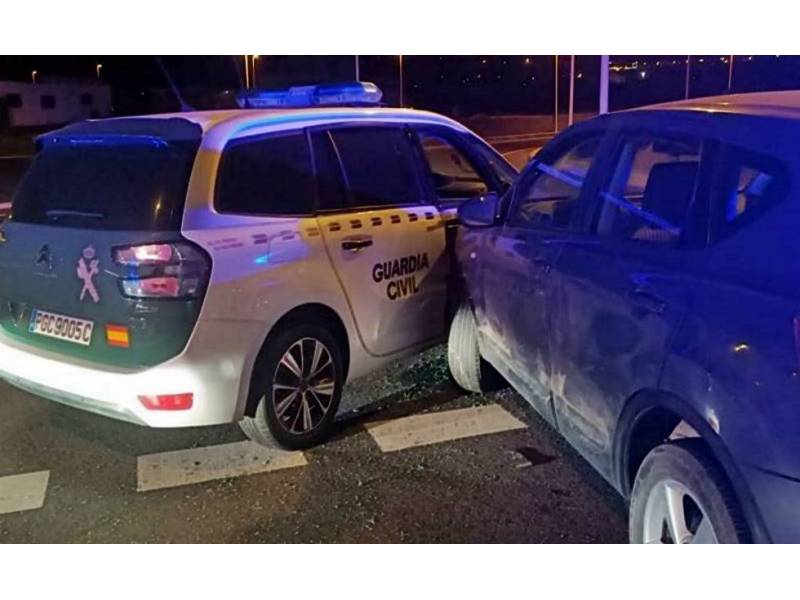 Car chase in Lanzarote ends with Guardia Civil officer injured
A car chase in Lanzarote has ended with the car being chased by police crashing into a Guardia Civil patrol car, and an officer having to go to hospital for injuries he sustained in the incident.
The chase began at 2:30am on Friday morning, when a citizen security patrol was circulating on the LZ-20 highway towards Arrecife, noticed that a car was being driven recklessly and zigzagging across the road.
The officers tried to stop him, but he continued driving until he finally pulled over at the Arrecife barracks, in the middle of the road. When agents got out of the patrol car to question him, the driver accelerated again and drove off towards Playa Honda.
According to the police report sent to the Court by the Guardia Civil, the car collided with several walls and beacons on the road and at one point looked as though it would overturn. In addition, during one section of road it circulated in the opposite direction of the traffic, invading the other lane and forcing other drivers to take evasive action or move to the shoulder to avoid a collision.
When he reached the Mácher roundabout in Tías, he found another Guardia Civil vehicle parked in the road and an agent giving him signals to stop. However, according to the report, the agent had to move out of the way to avoid being run over by the car, although he was hit by which dislocated his shoulder.
Other articles that may interest you...
In addition, the driver crashed into the parked patrol car, inside which there was another Guardia Civil agent, who was not injured. The escaped driver had injuries to his face, arms and legs but refused to be taken to hospital for treatment.
The escaped driver tested positive for alcohol and drugs and after being arrested, he went to court on Friday. He has been released with charges, for attack against the authority, and damages and crimes against road safety, including reckless driving.