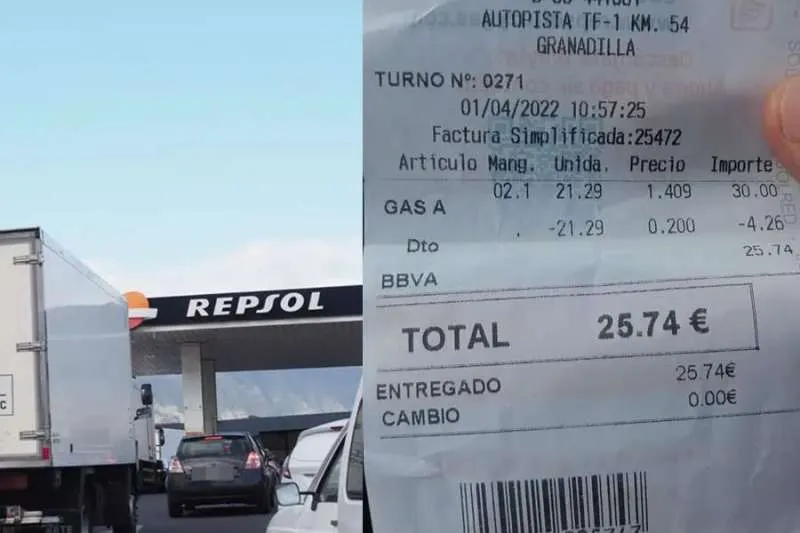 Where are the cheapest petrol stations in Tenerife today?
The 20 cents per litre discount on fuel starts today, which will make the price of petrol and diesel similar to what it was at the beginning of the year. Filling stations have reported massive queues this morning as over 1.1 million drivers in the Canary Islands can take advantage of the subsidy which is taken off your bill at time of payment, as you can see in the picture above.
So, where are the cheapest places to buy fuel today? The cheapest type 95 petrol in Tenerife today (Friday) is in the south of the island at the Shell service station, on Avenida Isora, in Guía de Isora, where it is 1,248 euros per litre.
The next cheapest is that of the GMOIL service station, on Calle Laura Grote de la Puerta, in Santa Cruz, where it is 1,319 euros per litre. In Adeje, the petrol station at GM has type 95 at 1.329 euros per litre, and in Arona the cheapest is at the Cepsa station in Costa del Silencio for 1.344 euros, and 1.369 at the Repsol petrol station in Guaza.
The cheapest 98 octane petrol is in Santa Cruz for 1.380 euros per litre, followed by the Shell garage in Guia De Isora again at 1.385. In Arona, the same one is the cheapest again with 98 petrol at 1.454 at the Cepsa station in Costa del Silencio, and the next cheapest is at TuTrebol in Adeje for 1.474 and at PCAN in San Isidro for the same price.
Regarding diesel prices, the cheapest in all of Tenerife is in the south at the Shell station in Guia de Isora for 1.239 euros per litre, and the Cepsa in Costa del Silencio for 1.339.
Source: Diario De Avisos
Other articles that may interest you...