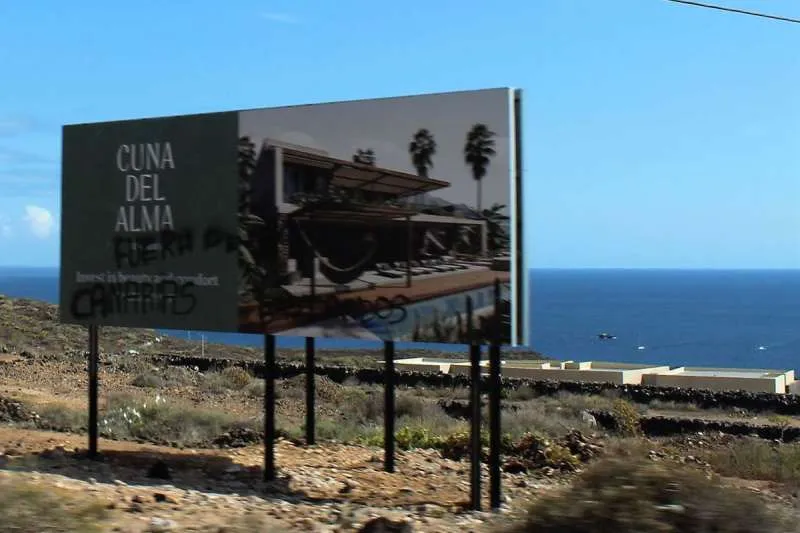 The Government says that Cuna del Alma complies with 'todays' planning regulations
The Canary Islands Government stated yesterday (Tuesday) in Parliament, that the Cuna del Alma project, in Puertito de Adeje, meets the planning and environmental requirements that are currently in place "as of today". This was confirmed by the Deputy Minister of Ecological Transition, Miguel Ángel Pérez, who said that the environmental and territorial planning corresponds to the City Council, and in the case of protected natural spaces, to the Cabildo's requirements.
Pérez insisted that it is "very important" to guarantee legal certainty and reiterated that the planned hotel complex occupies land that has been marked for development for more than 40 years.
However, he also stated that it is the responsibility of the government to "change the rules of the game" when making changes in the processing of this type of urban project.
PROTECTED SPECIES
Regarding the presence of protected flora on the land allocated for construction, Pérez said that, according to the information he has from the Cabildo, there is a species in the area that needs special protection and that, although it is included in the Canarian catalogue of protected species, neither is it vulnerable nor is it part of the national catalogue of endangered species.
"According to the report from the Cabildo, there are species that, due to their special protection, if you want to carry out a project, you will have to meet a series of conditions," he said, although he admitted that his department does not have information about its compliance.
Pérez recalled that the Agency for the Protection of the Natural Environment has opened an investigation and that the Government is at the expense of its results to know "if the procedure carried out by local administrations strictly complies."
For his part, Manuel Marrero indicated that his group places its trust in the Ministry so that the construction of the complex is stopped "for non-compliance with environmental requirements."
During his speech, he asked for a "recognition" of the people who are camped in the area to prevent a "development model typical of the 1970s that has led to the destruction of part of the coast" from prospering.