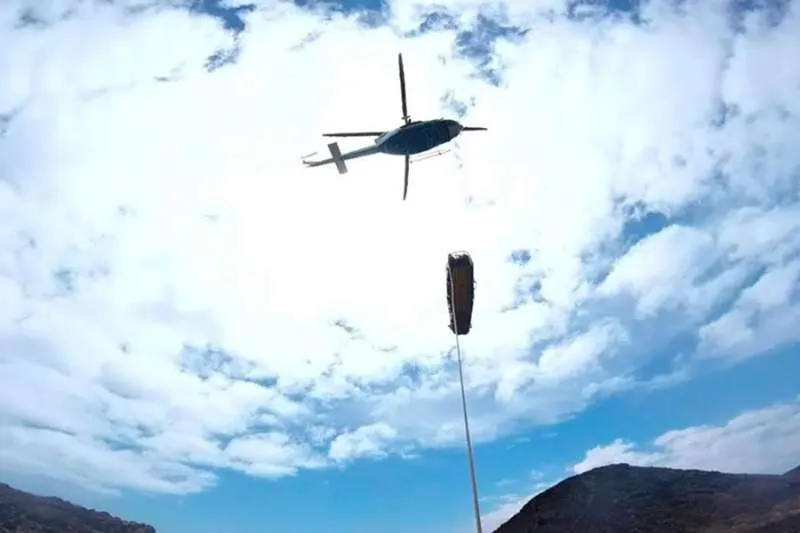 Female hiker is rescued by helicopter after breaking her leg
A female hiker has been injured after suffering a fall on the small island of Lobos, north of Fuerteventura, in which she broke her leg and had to be airlifted to hospital by helicopter, as reported by the Emergency Services Coordination Centre (CECOES).
The incident took place on the ascent of Las Lagunitas, in Lobos, at around 12:30pm yesterday afternoon (Saturday), when CECOES received an urgent call informing them that a 57-year-old woman has suffered a suspected broken or fractured leg in a fall.
The GES helicopter, which has to travel from Gran Canaria, located the injured woman, who was airlifted and evacuated to the Fuerteventura airport, where she was met by a SUC ambulance and transferred to the Virgen de La Peña General Hospital in Puerto Rosario for further treatment.
Advice to hikers:
More and more people are visiting the Canary Islands for rural tourism and to experience the natural surroundings they have to offer, however, with the steep slopes and large number of ravines the number of accidents has skyrocketed.
Due to this, the Government has released some important guidelines for both prevention, and action to take in case of an accident:
- Before leaving, always inform family and friends of the planned route.
- Never go out on the mountain alone, preferably book with an authorised guide or hiking company. (Take a look at the VayCay app for hiking excursions in the Canary Islands).
- Find out about the expected weather conditions and take a map of the area.
- It is important that you know your limitations and do not try to carry out activities with a higher risk than you are capable of. Remember that the level of the group corresponds to the weakest one.
- To assess the difficulty, the change in altitude, steepness of slopes, and the estimated duration of the route must be taken into account.
- Take extreme precautions with children, make sure it is suitable for them.
- In snowy areas, be aware of possible hidden rocks.
- Always go out equipped with some means of communication (mobile phone, GPS locator, or just a whistle), as well as a first-aid kit with bandages.
- Your equipment, clothing, and footwear must be appropriate to the activity that you are undertaking.
- Never leave marked paths and trails.
- Never shout inside ravines, there is a risk of landslides.
- Do not spend the night at the bottom of a ravine or in areas of dense vegetation where a fire may break out.
- If someone has a serious accident, don't move them, call 1-1-2 and wait for the rescue teams to arrive.
- Always remain calm and try to keep the injured person calm.
- Always keep them warm with whatever garment you have on hand.
- Once the rescue teams have been notified, try to get someone to stand in a visible place and be seen by moving a garment that stands out for its colour.
- In case of disorientation, keep calm, check the maps and go to the highest points, from there you can see more widely.