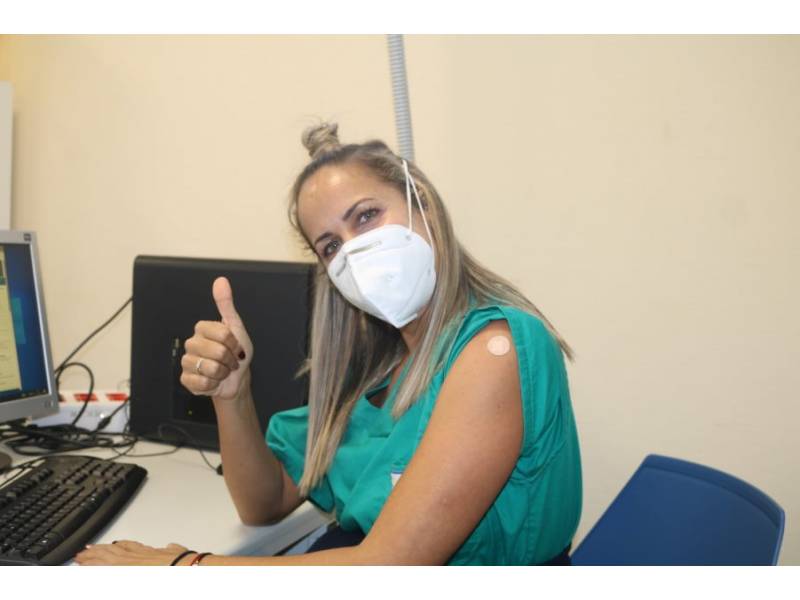 Covid update: New cases have decreased over the last 3 days to 254 today
The latest data from the Ministry of Health over the weekend and for today's bank holiday show that over the last 3 days the daily number of new cases has decreased. On Saturday there were 376 new cases reported, on Sunday there were 376, and today they have registered 254. Although this is good news it is too soon to confirm whether or not it is the start of a downward trend, especially as the number of PCR tests taken has been less in the last 24 hours.
Of the new cases today 103 are in Gran Canaria, 102 are in Tenerife, 26 in Fuerteventura, 16 in Lanzarote, and 7 in La Palma. In addition to this, there has been one Covid death verified in Fuerteventura, who have gone into Level 3 from today and now have an incidence rate over 400. Officially the threshold for Level 4 is an IA14 of 500 so the island needs to start seeing some improvement in its data.
Even though these next few days are 'Constitution Bridge' bank holidays, people are reminded that they can still go and get vaccinated without an appointment.
In Tenerife, anyone who had the Janssen single-dose vaccine or are over 60 years old can go, with or without an appointment, to the Magma centre in Adeje or the Recinto Ferial in Santa Cruz from 8.30am to 6pm, and in Gran Canaria you can go to Infecar or Expomeloneras between 9.30am and 6.30pm.
Data for Monday 6th December 2021:
(updates are against yesterday's figures)
New cases: 254
Gran Canaria: 103
Tenerife: 102
Fuerteventura: 26
Lanzarote: 16
La Palma: 7
La Gomera: 0
El Hierro: 0
Current Incidence rate (IA7): 117.10
(Cases last 7 days: 2,548)
Fuerteventura: 228.10
Gran Canaria: 126.12
Tenerife: 103.17
Lanzarote: 99.48
La Palma: 87.47
La Gomera: 46.13
El Hierro: 0.00
Current Incidence rate (IA14): 217.05
(Cases last 14 days: 4,719)
Fuerteventura: 400.06
Gran Canaria: 233.19
Tenerife: 200.95
Lanzarote: 164.94
La Palma: 127.01
La Gomera: 92.26
El Hierro: 0.00
Other articles that may interest you...
General:
Covid patients in hospital: 212 (-)
Covid patients in ICU: 39 (-)
Home isolation: 4,901
R number: 1.11 (needs to be below 1)
PCR test positivity rate: 6.62% (should be below 4.5%)


Deaths last 24 hours: 1
Fuerteventura: 1 (20)
Total deaths: 1,053


Vaccination: (no update today)
Total administered: 3,329,246
Fully vaccinated: 1,697,746 people (86.59%)
One dose: 1,703,854 people (86.90%)
Target: 1,960,774 (population over 12 years old)


Medical Discharges in last 24 hours: 102
Gran Canaria: 35
Tenerife: 33
Lanzarote: 31
La Palma: 2
La Gomera: 1
Fuerteventura: 0
El Hierro: 0


Total Active cases per island:
Total: 5,152
Gran Canaria: 2,207 (+68)
Tenerife: 2,116 (+69)
Fuerteventura: 531 (+25)
Lanzarote: 187 (-15)
La Palma: 91 (+5)
La Gomera: 19 (-)
El Hierro: 1 (-)
Municipalities with most active cases in each island:
1,816 in Las Palmas (Gran Canaria)
1,096 in Santa Cruz (Tenerife)
389 in La Laguna (Tenerife)
288 in Puerto del Rosario (Fuerteventura)
190 in La Oliva (Fuerteventura)
172 in Arona (Tenerife)
160 in Arrecife (Lanzarote)
118 in Adeje (Tenerife)
104 in San Bartolomé de Tirajana (Gran Canaria)
100 in Granadilla de Abona (Tenerife)
88 in Santa Lucia de Tirajana (Gran Canaria)
70 in Telde (Gran Canaria)
52 in Puerto de La Cruz (Tenerife)
23 in Guia de Isora (Tenerife)
21 in San Miguel de Abona (Tenerife)
19 in Mogán (Gran Canaria)
6 in Santiago del Teide (Tenerife)
(Please note this is not all municipalities, it represents the most infected and tourist areas)