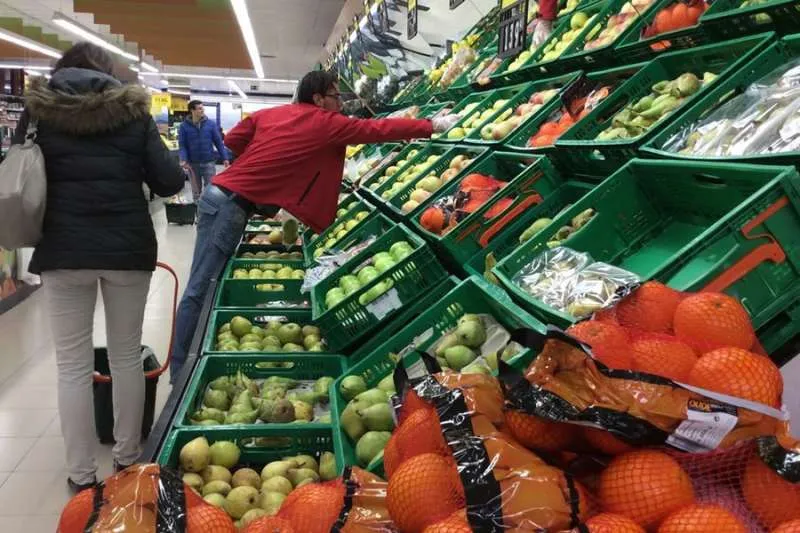 The cost of living continues to rise in the Canaries with prices up 9.4% in July
The Consumer Price Index (CPI) in the Canary Islands shows an increase in prices in its interannual data, reflecting a rise of 9.4% in July, weighed down, mainly, over the last twelve months by the increase in housing prices (+ 17%), transportation (+15.2%), in addition to food and non-alcoholic beverages (13.3%), according to data published this morning (Friday) by the National Institute of Statistics (INE).
Regarding the monthly data, the Canary Islands recorded a rise of just 0.1% due to the fall in prices of clothing and footwear (-13.6%) and alcoholic beverages and tobacco (-0.3%). On the other hand, housing (+1.8%), transport (+1.8%), leisure and culture (+1.3%), hotels and restaurants (+0.9%) or food and non-alcoholic beverages (+0.5%), continue to experience a monthly rise in prices.
Nationally, prices fell by 0.3% in July in relation to the previous month, although its interannual rate shot up to 10.8%, its highest level since September 1984 and six tenths above that registered in June, which was 10.2%, meaning that inflation has been above 10% for two consecutive months.
According to the INE, the rise in the interannual CPI to 10.8% in July is mainly due to increases in the prices of housing, clothing and footwear, as well as food and non-alcoholic beverages.
Housing increased its annual variation by four points, to 23%, due to higher electricity prices and, to a lesser extent, gas. Compared to June data, housing has increased by 2.6%.
Clothing and footwear increased by more than two and a half points compared to June, and the annual variation has now reached 5%.
FOOD, AT ITS HIGHEST LEVEL SINCE 1994:
For its part, food and non-alcoholic beverages reached the highest level since the beginning of the historical series, in January 1994, with a rate that soared to 13.5%, six tenths higher than that of the previous month.
The INE explains that this rise in food and non-alcoholic beverages is due to the behaviour of the prices of meat, milk, cheese, eggs, bread, cereals, fruit, and vegetables.
Transport registered a drop of three points compared to June, thanks to the drop in the price of fuels and lubricants, and the annual rate in July was 16.2%.
THE UNDERLYING SCALE UP TO 6.1%:
Core inflation (excluding unprocessed food and energy products) increased six-tenths in July to 6.1%, its highest value since January 1993.
In the seventh month of 2022, the Harmonized Consumer Price Index (IPCA) placed its interannual rate at 10.7%, seven-tenths above the June data. The monthly variation of the IPCA showed a decrease of 0.6%, according to data from the INE.
PRICES FALL 0.3% IN THE MONTH:
In monthly rate (July over June), the CPI fell by 0.3%, after in the previous month (June over May) it registered a rise of 1.9%, its biggest rise in a month of June since 1977.
Throughout July, the falls in the prices of clothing (-10.9%), footwear (-8%), fuels and lubricants for personal vehicles (-4.7%) fruits (-5.7%) and telephone and internet services (-2.1%), all contributed to this decrease.
However, in July there were significant increases in tourist packages, with a rise of 13% compared to June, followed by electricity (6.4%), or accommodation services (2.6%).