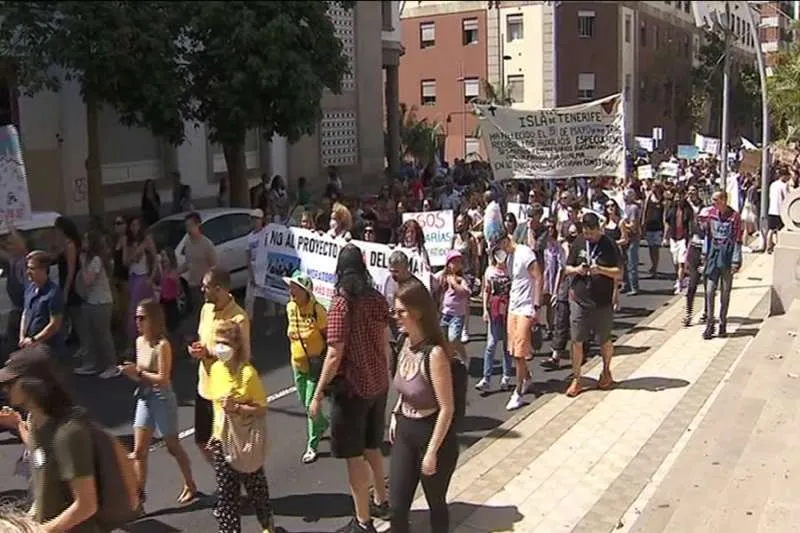 More protests against the new Cuna De Alma complex in El Puertito in Adeje
Almost 8,000 people joined a demonstration in Santa Cruz in Tenerife on Saturday against the over urbanisation of the island, and specifically, for the rejection of the construction of the new 'tourist village' in El Puertito in Costa Adeje on the south coast of the island.
The demonstration, organised by the Tenerife Association of Friends of Nature (ATAN), with other groups against the construction of ports and complexes in natural areas such as Save Fonsalía, Save La Tejita, Save El Puertito and the Telesforo Bravo Foundation, began after 11am in Plaza Weyler Square and ended in front of the Tenerife Cabildo, where they read a manifesto.
In the protest, people carried placards and chanted slogans such as "No to the Cuna de Alma project" and "There is no room for more people in Tenerife", among others.
Atteneri Rivero, one of the spokespeople for the protest and the person in charge of reading the manifesto, pointed out that the tourist project in Puertito de Adeje is "a new blow to the scarce and mistreated territory". In the manifesto, he demanded a tourist moratorium so a plan can be made for a decrease in tourism, and so that a residence law be established to curb the growth of the population.
Likewise, he called for the creation of marine reserves, the expansion of protected natural spaces, and the monitoring and control of the environment, among other measures.
In the specific case of El Puertito in Adeje, he warned that if a hotel is built in this area, the La Caleta site of scientific interest will be cornered and human pressure will increase in that environment, where populations of cardonal tabaibal and species of flora and fauna live, fauna that, according to reports, are not included in the environmental impact report.
Other articles that may interest you...