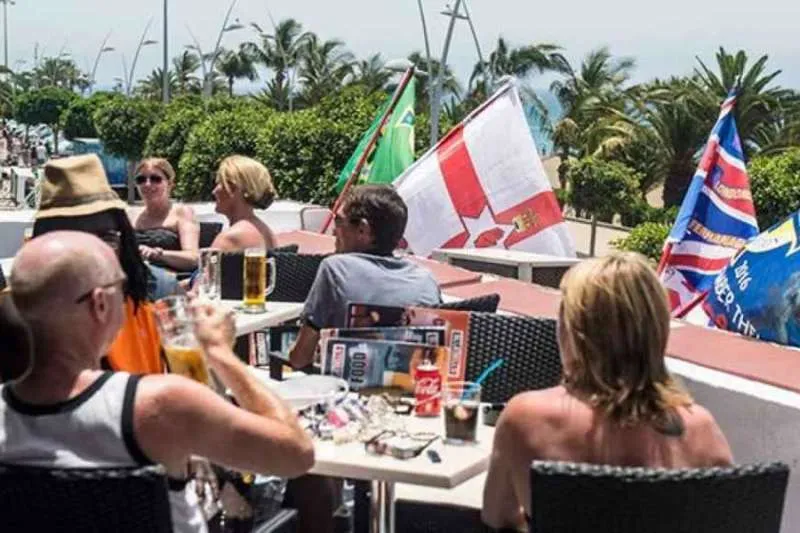 Lanzarote: We need less British tourists
Lanzarote, with a population of just 151,000 people, received 2.5 million tourists in eleven months until November 2022, which is 17 times the number of people that live there which has led the cabildo to declare that the island is a "tourist-saturated area" that needs to focus on "higher quality" tourism with less numbers to "guarantee the future of coming generations".
During FITUR the president of the Lanzarote Cabildo, Dolores Corujo, said that this statement is not an objective, but a previous step to start a phase of tourism decrease that they understand is necessary.
30 years ago, they said that they didn't want to create more beds to cater for more tourists, but wanted to attract a better quality with higher spending power to set them apart from the rest of the Canary Islands.
"This year we went to FITUR to present the change in the tourism model that we want for Lanzarote, something we have been working throughout this mandate, despite setbacks and limitations derived from the pandemic. There we certified the return to full tourist normality and once again highlighted our firm commitment to sustainability and excellence," Corujo said at a press conference.
LESS TOURISTS, IMPOSSIBLE WITHOUT DIVERSIFICATION:
She insists that this objective means aspiring to "fewer tourist arrivals, with greater spending in the destination, so that they increase wealth in the island's economy as a whole."
To achieve this, according to Corujo, they need to reduce their dependency on the British market, as more than half of the island's visitors come from the United Kingdom, so it would be necessary to create a "diversification strategy to grow the French, Italian, Dutch, and peninsular markets, which they hope will have a direct impact on the increase in tourist spending at the destination".
The president of the Federation of Hospitality and Tourism of Las Palmas (FEHT), José María Mañaricúa, said that he shares the Cabildo's aim to improve the spending of tourists in Lanzarote, saying, "every business aspires to improve its income. To attract a tourist with higher spending, it will be necessary to make a clear commitment to the island's infrastructure, with improved beach services, and with differentiated services as in other areas of Spain such as the Balearic Islands or Andalusia, for example".
In this sense, he said that "a declaration of intent is not enough. A strategy must be developed to improve the experience of clients on beaches, culture, and gastronomy. The people of Lanzarote should be the ones who define the economic model of their island and, therefore, what they decide in this regard must be respected", stressing the need for the island to develop other sectors of the economy if they want to reduce the weight of tourism.
Regarding the possibility of improving the hotel facilities in Lanzarote to achieve greater spending by tourists, by moving towards 4 and 5-star hotels, he said that "Not one more bed can be made on the island, and it is not so easy to improve hotels that are 20 or 30 years old, many of them already have a determined structure and size. It is one thing to renovate a hotel and another to give it greater value. It can be analyzed but it is not easy."
Other articles that may interest you...