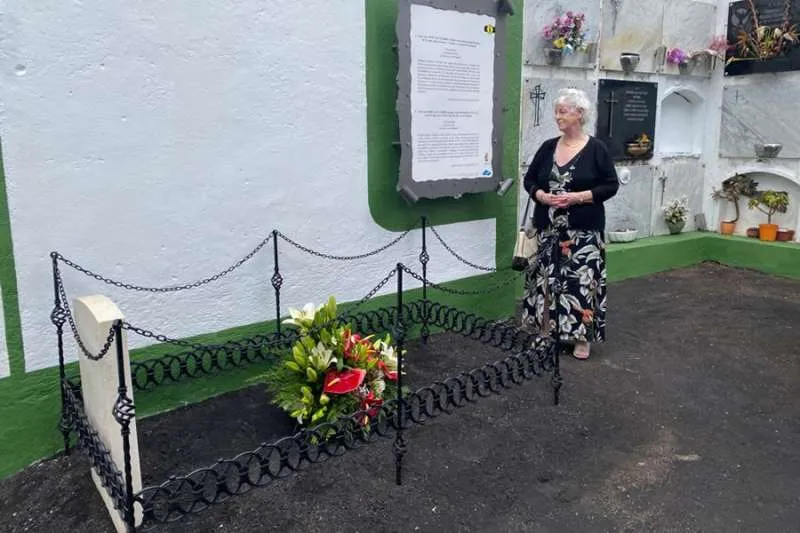 Emotional visit of British soldiers' family to La Palma cemetery for first time in 79 years
It's 79 years since the mutilated and lifeless body of British soldier John Lee washed up on a beach in La Palma during World War II, and last week he was finally reunited with members of his family after a historian traced his routes, and elderly relatives had to wait for Covid restrictions to be lifted before they could visit his grave, which is in the corner of the municipal cemetery of Villa de Mazo.
As the Second World War was ravaging the planet, 22-year-old John Lee from Glasgow gave his life in the struggle against the enemy, and since 1943, his remains rest in a corner of the municipal cemetery, a corner that has been British property since 1951, after being acquired for 100 pesetas.
Over the years the headstone has been preserved by the British Government and the residents of Villa de Mazo have been proud of the folklore story and mystery regarding John Lees.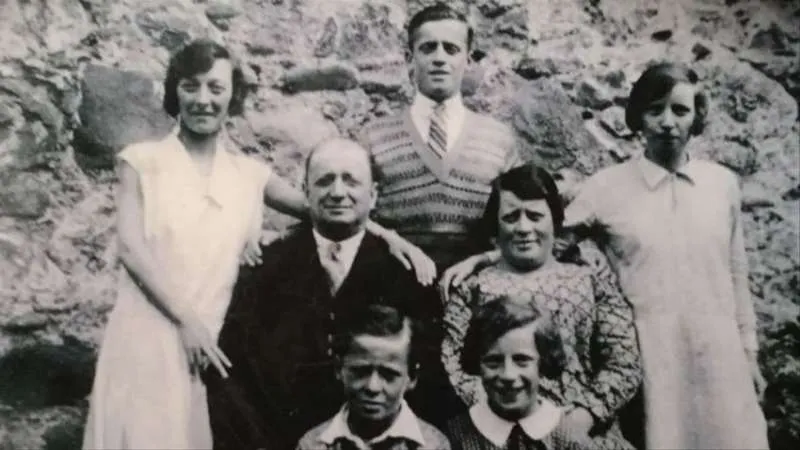 Archive image of John Lees and his family
There have also been several tributes paid to the soldier, including one in 2018 for the 75th anniversary of the appearance of the soldier's body, attended by the UK ambassador to Spain at the time, Simon Manley, together with the British consul Charmaine Arbouin, and the vice-consul Helen Díaz de Arcaya Keating.
The mayor of Villa de Mazo, Goretti Pérez Corujo, said that "John Lee has ended up being part of the history of Villa de Mazo, becoming one of the well-known and beloved tenants of the San Blas cemetery. The way in which he appeared on the beach, mutilated, caused an even greater sorrow to the inhabitants of our municipality. It is really touching and beautiful that since then his grave is always surrounded by flowers."
Hearing the story, and wanting to find out more, historian Óscar Fumero, decided to dig deeper and unravelled the historical keys of the days before the soldier's death, saying that "the SL 125 convoy, in which John was part of, was intercepted by German submarines west of the Canary Islands. They were days of agony and despair and many lives were lost."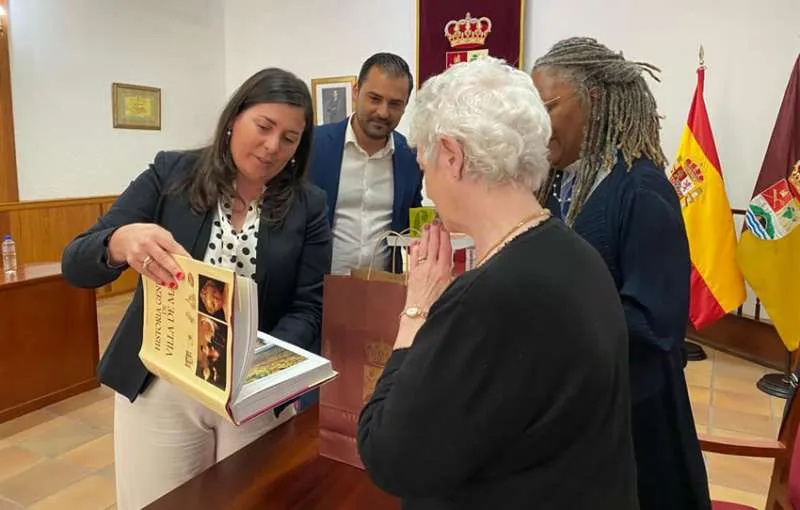 Mary and the British Consul view John's story in the Villa de Mazo history books
But for the researcher "something was missing". He needed to know more than just the soldier's name and number. He wanted to put a face to John, to know what ship he was on, and to meet his family, so he kept looking.
He contacted the British government who assisted in the search for the soldier's family but it would not be easy, since the surname Lee is very common. "It was hours, days, months of searching until I found a forum for fallen soldiers, and then the family tombstone that John's father had erected in his memory."
In it, in addition to the soldier's data, were the dates that his parents, Martha and Henry, had died, and that of his sister Agnes, who had died when she was just 16 years old. "I brought this to the attention of the consul Charmaine Arbouin, and from then on everything was easier," said Fumero. And finally, last Friday 13th May 2022, the long-awaited reunion took place after 79 years.
John Lee's niece, Mary Hastie who is now in her 80s, and other relatives made the emotional journey to la Palma to be the first of his direct descendants to visit his grave since he was laid to rest in 1943.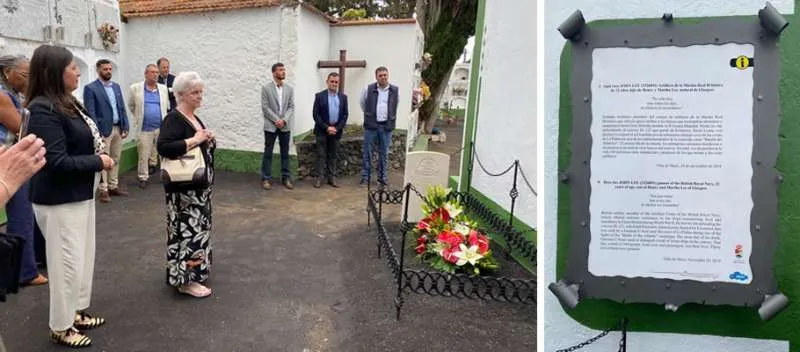 Historic Moments like this serve to remember, honour and thank those who sacrificed so much on our behalf. Some parents didn't get the chance to bury their sons or have them close by to take flowers to their graves, but in this case, the people of Villa de Mazo took care of that.
According to Mary, her grandmother told her when she was very young that she had tried to come to La Palma to visit his grave, but it wasn't possible. However, last Friday, John finally had flowers from his own family and felt a little closer to home.
Along with John Lee's family, the act was attended by representatives of the British Consulate, Consul Charmaine Arbouin and Vice-Consul Helen Díaz de Arcaya Keating, as well as Mayor Gorretti Pérez Corujo, and historian Oscar Jesús Fumero Méndez.
Other articles that may interest you...