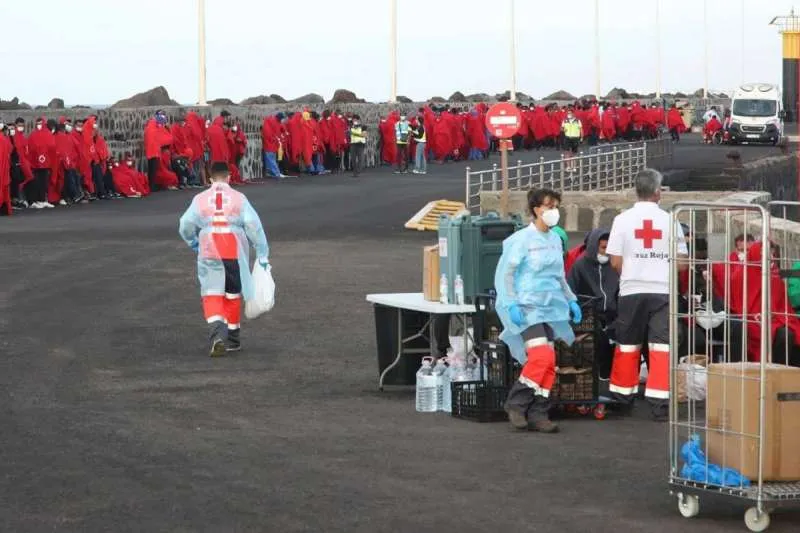 367 migrants rescued in Canarian waters including a child in critical condition
Maritme Rescue has helped 367 people in eight boats during twelve frantic hours of rescues in waters around Lanzarote, in which one of the boats capsized and several of its occupants had to be rescued from the water by helicopter, including a child in critical condition and a pregnant woman.
Sources from the Emergency Services and the Red Cross have reported that a six-year-old boy went into cardiorespiratory arrest after being in the water, but rescuers managed to revive him by administering CPR. He was initially evacuated, along with the pregnant woman, to the Doctor José Molina Orosa Hospital in Arrecife for initial treatment, and they will transfer him to Gran Canaria when he is well enough to travel.
During the night and early this morning, the Guardamar Polimnia rescued five boats and the Salvamar Al Nair another two, with a total of 367 occupants. All of them were taken at the port of Arrecife after just 7:00am where they were met by the Red Cross and Health Personnel.
The most dramatic rescue occurred at around half past midnight when a container ship that had been sent to help an inflatable boat 115 kilometres from Arrecife, reported that there were people in the water. The Helimer 206 helicopter arrived just in time to rescue them and evacuated seven adults (including the pregnant woman) and the young boy who was in critical condition.
After dropping off 91 people at the dock, the Al Nair was called out to sea again to aid an eighth patera, a pneumatic boat located 91 kilometres northwest of the island.
In it were traveling 25 men, 16 women (two of them pregnant), and nine children, all of sub-Saharan origin, who arrived at the port of Arrecife at around 1:00pm.
At the moment, there is no more data on the state of health of the occupants of the small boats, other than the two transfers made from the helicopter: the child who stopped breathing and the pregnant woman.
Other articles that may interest you...