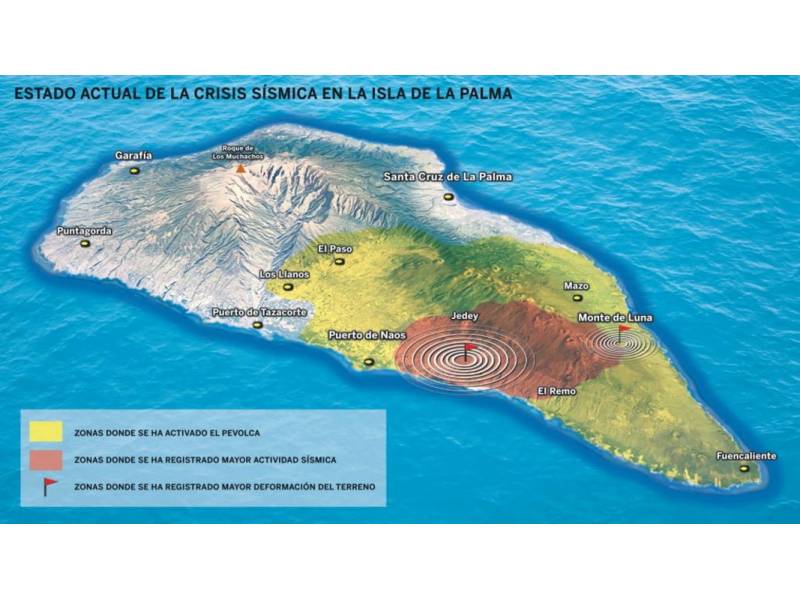 Seismic activity has reduced but the ground has now risen 10cm in La Palma
The seismic swarm that started in La Palma on Saturday from which over 1,000 earthquakes have been measured and 4,500 minor tremors have been recorded, has started to reduce in number of tremors detected, but the ones being measured are at a higher intensity, a shallower depth, and the surface of the area affected has now risen 10cms as the magma below the surface is 'looking for an escape'.
Overnight 17 earthquakes were measured by the National Geographic Institute between 0.9 and 2.2 on the Richter scale, confirming the decrease in activity. According to data from the IGN, the largest of last night's earthquakes was at 1.49am with a magnitude of 2.2 at a depth of 8km in the municipality of El Paso in the south of the island.
The rest of the quakes were registered in the municipalities of Fuencaliente, Villa de Mazo, El Paso, Breña Baja and Tazacorte, the last of them 1.2 on the Richter scale at a depth of just one kilometre at 7.04am this morning in the northwest of Fuencaliente.
The 10-centimetre deformation of the island's crust does not necessarily point to an imminent eruption, it means that the magma continues to search for an outlet, which, according to data obtained by Involcan's seven GPS stations, can be located in the lower area of ​​Jedey (El Paso) or in the Montes de Luna neighbourhood of Mazo. These are the two areas where magma has exerted the greatest pressure so far.
What does fall within their forecasts is that, in the next few hours, more intense earthquakes will be registered in the four towns that remain on yellow alert for volcanic risk, which are: Los Llanos de Aridane, El Paso, Fuencaliente, and Mazo.
Yesterday more than 50 shallow earthquakes, between 1 and 5 kilometres deep were recorded, with one of them being measured at 3.1 on the Richter scale at a depth of 6kms at 2:32pm in El Paso, which was felt by residents in the area.
Main image: Diario de Avisos / Alfredo Matute
Other articles that may interest you...