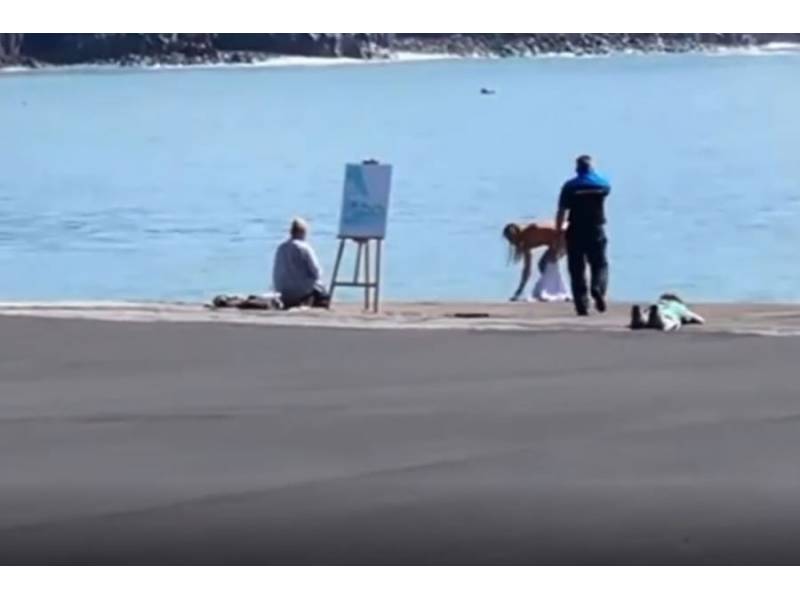 Nude model stopped while posing for a painting in front of the volcano in La Palma
There have been some surreal sights during the eruption in La Palma, and this ranks up there with the best of them! On the portside of Tazacorte in La Palma, a naked man was caught on film posing for a female artist who was doing a painting of him in front of the volcano, when a port guard appeared and told him to get dressed and move along.
With the volcano in the background, the man is looking at the artist, who is painting away, until, when questioned by the port employee, he quickly gets up, covering himself and leaving the work unfinished.
The lava that reached the sea yesterday in the northern part of the lava flows near Tazacorte, is forming a new lava delta and has forced the confinement of almost 3,000 people in their homes, a measure that will last for at least another 24 hours.
Although sulphur dioxide emissions have marked a minimum since the eruption began, between 900 and 1,300 tons per day, and the wind from the west and southwest has caused air quality problems in the municipalities to the east, mainly Santa Cruz de La Palma, Breña Alta, and Breña Baja.
That is why the Canary Islands Volcanic Emergency Plan (Pevolca) has extended the recommendations to these municipalities that were applied to the population of the Aridane Valley since the beginning of the eruption: i.e. use of FFP2 masks due to the presence of particles smaller than ten microns, clothing covering arms and legs, and only going out when necessary.