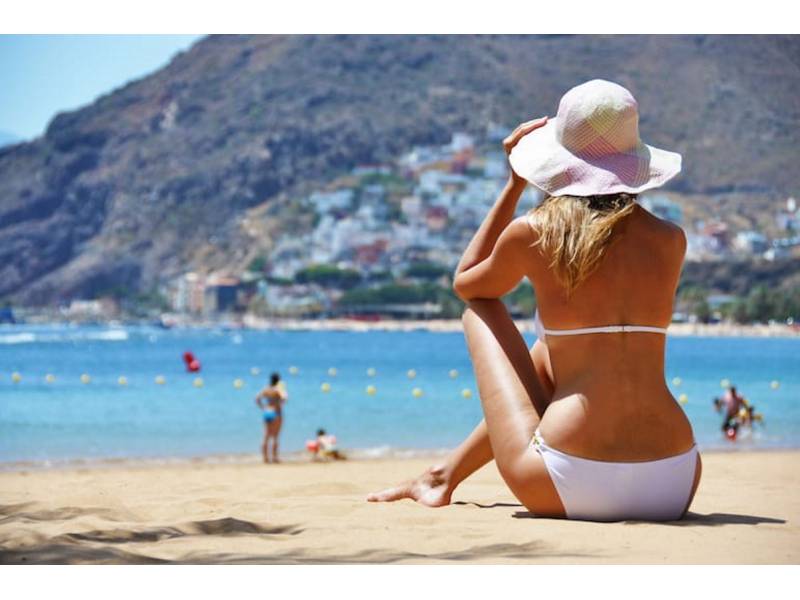 Now that you are allowed to travel, how easy is it to visit the Canary Islands?
Now that nearly all restrictions have been lifted in England thanks to 'Freedom Day', including the necessity to quarantine if you have been fully vaccinated on your return home, a measure also adopted by Wales, how easy is it to travel to the Canary Islands? Are people travelling to the Canary Islands? What are the requirements to travel to the Canary Islands?
There have always been flights operating during the pandemic, particularly from Ryanair who have hardly cancelled any, but there hasn't been many and they have not had many people on board. However, yesterday saw an upturn in the number of arrivals with 28 UK flights landing in the islands and further increases this week.
According to forecasts, Friday will be the busiest day of the week in which the greatest number of arrivals to the Canary Islands will be from the United Kingdom, with a total of 84 flights from various parts of the country, then on Saturday, another 61 flights bringing happy holidaymakers are expected.
Sunday will be the third busiest day of the week with 48 flights arriving from the UK, in fact, within the first seven days of restrictions being lifted for international travel in England and Wales, 287 flights are scheduled to arrive in the islands, a number much higher than anything seen during the pandemic, and a positive sign of recovery and confidence to travel.
So, how easy or difficult is it to prepare necessary documents, board, fly, and enter the islands for a holiday? Well, here are the updated requirements to help make it as easy as possible:
1) Fill in the Spanish locator form:
This is a very simple document to complete which you must do within 48 hours of travelling. You will be asked for it by most airlines, and you can either print it off or show it on your mobile phone. You can find the form online at this address: https://www.spth.gob.es/ and fill in the relevant one for an individual traveller, family or group.
The form asks for:
Name.
Surname.
Passport number.
Flight number.
Arrival date.
Email address.
Once you've done this, you have an account, so fill in the rest about where you are staying and once complete you will receive a QR code which you may be asked for on entry to the islands, but by completing it the Spanish authorities already have your details, so may not be.
2) Vaccination Certificate OR Negative test result OR Certificate of recovery from Covid:
Anyone aged 12 or over will have to meet at least one of the following requirements:
Vaccination certificate that proves you have been vaccinated against Covid-19. You must be fully vaccinated and have received your last dose at least 14 days before arrival in the islands. You can use your NHS app for proof and will be asked for this before boarding your plane.
Any vaccine that has been authorised for commercial use by the European Medicines Agency (EMA) and the WHO will be permitted, i.e. Pfizer, Moderna, AstraZeneca, Johnson & Johnson (Janssen single dose).
A certificate showing a negative test result. Either have an Antigen test performed no more than 48 hours before your arrival in the Canary Islands, or NAAT tests (PCR, TMA, LAMP) performed no more than 72 hours before your arrival in the Islands are accepted.
Proof is with a negative NAAT test certificate.
If you have recovered from Covid, you can also enter the islands with a NAAT certificate proving it, issued at least 11 days after your first positive NAAT (PCR, TMA, LAMP) test. The certificate is valid for 180 days.
Children under the age of 12 do not have to present anything to enter the Canary Islands. The age is set at 12 because the UK, like Spain, are vaccinating anyone aged 12+.
3) Is my passport valid?
Since the UK left the EU after Brexit, they became classed as a Third Country as far as travel is concerned. Under the rules of Third Country travel your passport MUST have 6 months left on it for you to enter any country in the EU, including the Canary Islands... but be warned, check your passport!
If you changed your passport early and have 'extra' time on it, this period of time doesn't count. The six months is calculated within a 10 year period of the issue date of your passport. So if, for example, you changed yours 3 months early, so it runs out in December not September, it will be calculated from September as that relates to the issue date of the document.
It sounds complicated, but it isn't, but it is something that people have been refused to board their plane for.
4) Do I have to wear a mask on my flight?
Yes.
5) Will I be asked to show anything else on arrival?
Under the rules of Third Country travel you could be asked to prove the following:
- Your return flight.
- A suitable Health Insurance policy.
- Where you are staying.
- Adequate funds to support themselves during their stay.
Firstly, these are only can, could, or may be asked to be shown at border control. Everyone should show a return flight because of the 90/180 day rule that now applies to non-EU travellers. Health insurance is advisable anyway in the situation we are all in. If you are staying in holiday accommodation or own a property that is easy, and we don't know of anyone that has had to prove their finances.
As it says, these are only can, could or may be asked, but we've all read of that person who 'couldn't believe it when asked to prove this that or the other' on their travels, so forewarned is forearmed.
6) Checking in to holiday accommodation:
Simple, you already have the documents. Vaccination certificate OR Negative test result OR certificate of recovering from the virus. Nothing is required for children under 12 years old.
7) Can I travel between the islands once here:
Yes. There are currently no limitations on travel between islands, except for visiting La Gomera where a voluntary screening is taking place in July, August and September.
8) Where can I get a test before I fly back to the UK?
There are test centres everywhere. You can go to a medical centre, there are some in shopping centres, there are billboards advertising them, you can even get one at the airport before you fly home, which you MUST book in advance.
Eurofins Megalab are based in all Canary Islands airports and the test costs less than 30 euros.
You can choose your airport and book it online here: https://eurofins-megalab.com/pruebas-covid-19-en-los-aeropuertos-de-espana/
After you've had the test you will receive the result to their TrustOne APP (free in all stores) within 30 minutes.
9) What do I do now?
Now, you enjoy your holiday. We've had the islands to ourselves for long enough, it's your turn. Discover, Experience and Explore all that the islands have to offer... and tell your friends, they're allowed to come too!