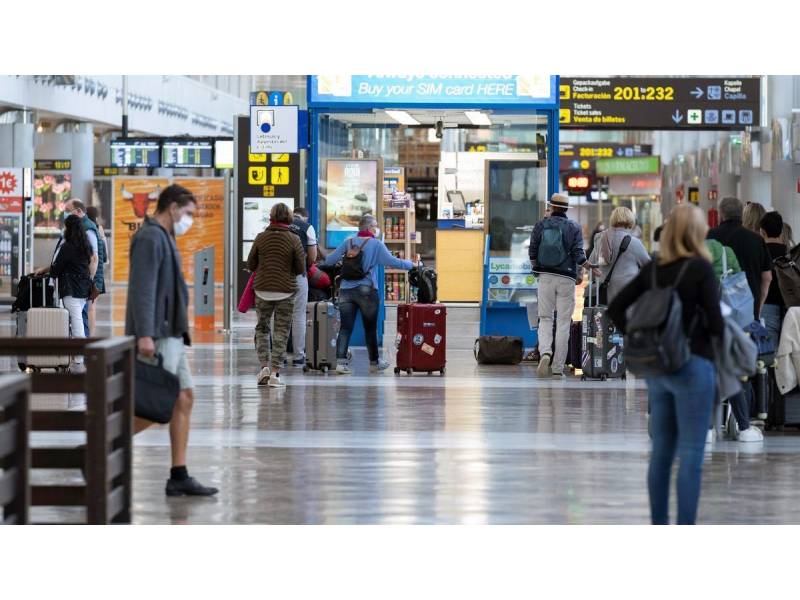 'Happy to be here' Brits land in the Canary Islands on 'freedom day'
More British tourists than usual these days have arrived today in the Canary Islands from the United Kingdom, on what is known as "freedom day" following a lifting of travel restrictions for people returning home to England and Wales from amber list countries meaning no quarantine when they get home.
The first unrestricted day of travel will bring 26 flights from the UK to Canary Islands airports with Tenerife the one that receives the most with thirteen, the vast majority being operated by Ryanair and Jet2, with London and Manchester as the main emitters.
Lanzarote is the island with the second largest number of flights from England, with seven, two from Manchester, two from London, one from Leeds and two from Birmingham, all of them operated by Ryanair and Jet2.
Gran Canaria, for its part, receives four flights, one from Bristol, two from Manchester and another from London. Finally, two will arrive at the Fuerteventura airport, one from Manchester and the other from Birmingham.
As flights arrived this morning at Gran Canaria airport none were anywhere near full, but it was plain to see that passengers were in a much happier state of mind as travel has been made easier.
"It's about time they let us travel," said Louise Cheesman, one of the passengers as she collected her luggage, saying "You have to be careful and be especially cautious at the moment, but I'm happy to be here as it represents a certain amount of being back to normal."
She said that her trip had been "comfortable, fast and easy. We had to show all our documents before boarding, but it was a simple process and definitely worth it."
Another of the passengers on this flight, Mark Andrews, is celebrating being able to return to the Canary Islands for the third time. "I am very happy to be here because it is a great and relaxing place. I know it is a safe destination to be in. It's about time they let us live our lives," he said in relation to UK mobility restrictions and Boris Johnson's policy.
Another passenger from the south of England, David Shepherd, has travelled to the Canary Islands several times before and said that he would have come anyway, as the lifting of quarantine for those who are vaccinated was not confirmed when he booked his flights over a month ago.
Shepherd is travelling for a holiday and has already been quarantined for other previous trips, the last one just a few weeks ago for a work trip, so has declared himself "lucky" that this change in restrictions allows him not to do it again this time.
Regarding mobility restrictions, passenger Michelle Frost said that she is against it, because cases in the UK are increasing, especially in the south of the country, saying she feels "safer in the Canary Islands than in the United Kingdom, and even more so now I'm vaccinated."
Another British traveller Serena Sheikh confessed that she is "very happy to travel again", in what is her first trip to the Canary Islands. She chose the Islands as her holiday destination seven or eight weeks ago and, although she was confident that she would not have to quarantine, she wasn't sure when she bought the ticket.
"I would have still been quarantining when I go home," she said, because "I did not expect the restrictions to be lifted by today."
Staff and crew of the airlines and the workers of the companies that carry out the airport transfers said they are very happy to once again receive the British, the most important tourist source market for the Canary Islands, and that they could see the difference of today's arrivals who seemed far more relaxed than previously.
The arrival of travellers from the United Kingdom is not yet massive, but they are confident that it will now stabilize little by little every day.