VIDEO: Wizz Air 'lowest ever landing' is caught on film
This is the heart-stopping moment a Wizz Air passenger plane skimmed just yards over tourists' heads as it came in land on a Greek island, in what is being hailed as "the lowest ever landing at the airport". Dramatic footage of the landing was caught by a jet enthusiast who positioned himself specifically to watch planes touch down on Greece's Skiathos island.
The island's landing strip, built just yards from the sea, has become a draw for thrill-seeking tourists looking to capture spectacular landings as pilots are forced to have to land as early on the tarmac as possible, because it is so short.
But even the seasoned plane spotters appeared shocked as the Airbus jet headed towards the tarmac and only just cleared the airport's perimeter fence.
The video opens by showing the plane in the distance cruising towards the Skiathos Alexandros Papadiamantis Airport over the turquoise Mediterranean waters, and several people are shown to have gathered on the beach and a road that runs along a narrow bit of land between the sea and the runway.
As the Wizz Air-operated Airbus A321 approaches, however, it is clear that the pilot is bringing it in at a low altitude. One onlooker even begins to move out of the way in anticipation of a low landing.
Others are heard shouting out in surprise over the roar of the engines as the pink and white jet swoops down until it is just a matter of yards over the heads of the plane spotters, and even wobbles slightly as it prepares for touchdown, kicking up dust and sand into the air and ruffling the hair of one man who is seen in the footage flinching.
In another angle from a second camera, people's clothes are shown being buffeted by the gust caused by the jet. One young girl is even shown falling over backwards, knocked down by the force of the jet, while a woman loses her hat.
As this happens, the wheels of the plane make contact with the tarmac, and the pilot successfully lands the jet on Skiathos.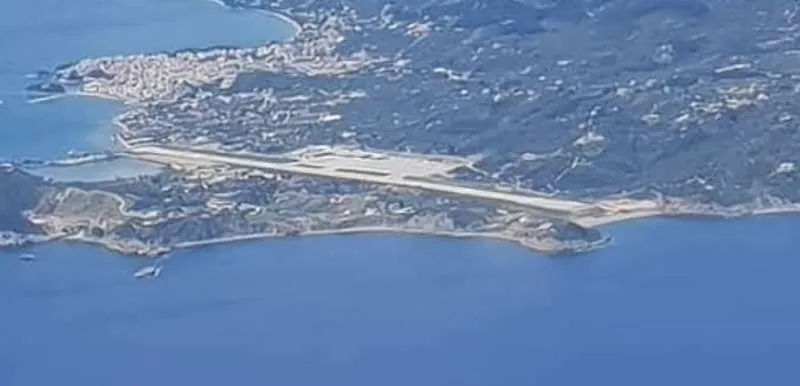 The runway on Skiathos
The airport's runway is found in the north-east of Skiathos island, and is built in-between two hills that flank the stretch of tarmac.
The relatively short runway runs north-to-south and from coast-to-coast on Skiathos, meaning pilots have to approach as low as possible in order to give themselves enough runway to land on and come to a stop.
Because of the short runway, some planes even have to take off with less fuel, and touch down minutes later in nearby Thessaloniki to refuel before completing their journey.