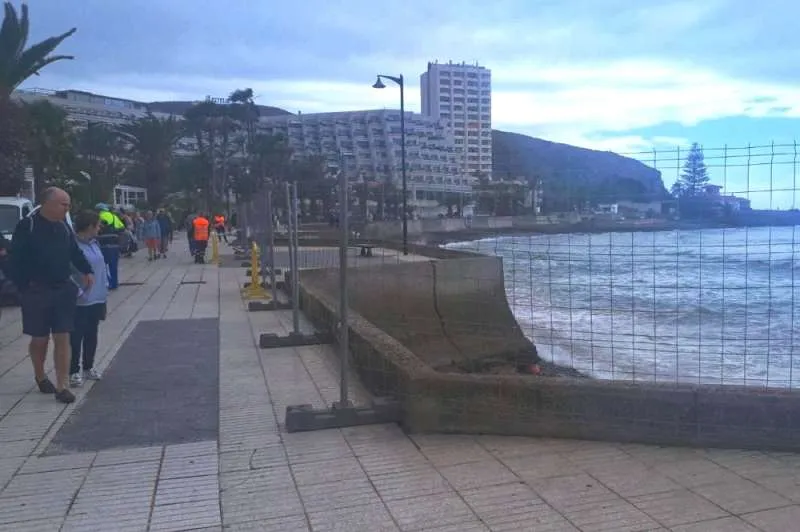 The Los Cristianos seafront walkway is finally going to be repaired
The Arona City Council has put the work out to tender to repair damage to the sea wall and railings on the Los Tarajales promenade in Los Cristianos in the south of Tenerife, which has a budget of just over half a million euros.
The deadline for companies to submit their offers closes on May 31st, and once the contract had been awarded, they have an execution period of two months to complete.
The repairs will rectify all the damage caused by strong waves along the seafront walkway after it was passed by the General Directorate of Costas.
The first phase of work carried out on the Los Tarajales promenade involved a 1.5 million euro investment by the Arona Council and the Tenerife Cabildo in 2020, which rejuvenated an important part of the coast of Los Cristianos.
The work substantially improved accessibility and connected Calle El Coronel with Avenida Juan Carlos I for pedestrians along the 265-meter-long stretch of the promenade, with new benches and seats for people to admire the view.
This latest project joins the one for the regeneration and rehabilitation of the beach itself, which already has State funding of two million euros from the 2022 General State Budget, as the council continues to improve the area.
The mayor of Arona, José Julián Mena, said "Finally, and after meticulous work on preparing the project and complying with the General Directorate of Costas, the residents and holidaymakers of Los Cristianos will once again be able to enjoy the entire Los Tarajales promenade. The repair of this part of the wall, damaged by the sea on this part of the coast, is great news for the municipality".
Other articles that may interest you...