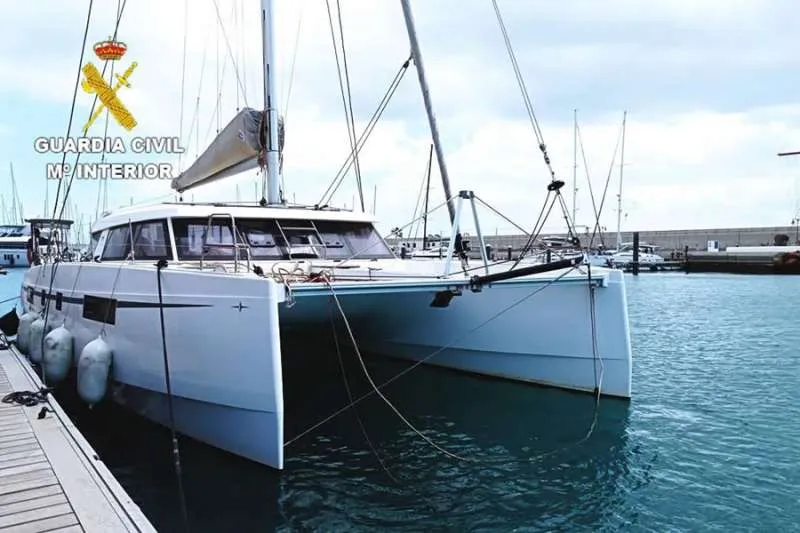 The Guardia Civil retrieves an empty catamaran drifting without a crew
The Fuerteventura Maritime Department of the Guardia Civil has located and recovered a 13-metre long catamaran that was drifting towards Fuerteventura without a crew, after its skipper accidentally fell into the water, couldn't get back on the boat, but was able to swim to the coast of Lanzarote.
The Guardia Civil were alerted at 12:50pm yesterday lunchtime by the Canarian Ports Officer in Corralejo, who reported the possible existence of a catamaran drifting off the coast without a crew on board, somewhere between Lanzarote and Fuerteventura.
They immediately dispatched their light patrol boat S-36 to the area they calculated it could be in, and located it 4 miles from the north coast of Fuerteventura.
When they tried to communicate by radio with the 13 meter boat, there was no reply and nobody responded to any type of signal or call issued by them, or had anyone used the lifeboat which was still in place onboard.
Given the situation, two members of the Fuerteventura Maritime Service team decided to get on board the catamaran, and after verifying that there was no one else onboard, deactivated the autopilot that was set at a speed of 1.6 knots and a course of 217º towards the coast of Fuerteventura.
The Guardia Civil immediately took control of the boat and headed for the port of Playa Blanca, where the owner, a French man, had reported what had happened.
He explained to the authorities that he had set the autopilot when leaving the Marina Rubicón port of Playa Blanca, and had accidentally fallen overboard. Fortunately, he was wearing a life jacket and managed to swim back to the pier to raise the alarm.
Once safely back at the dock, the Maritime Police confirmed the story and that he was the owner of the boat, and handed it back over to him, with both the man and the catamaran in one piece.