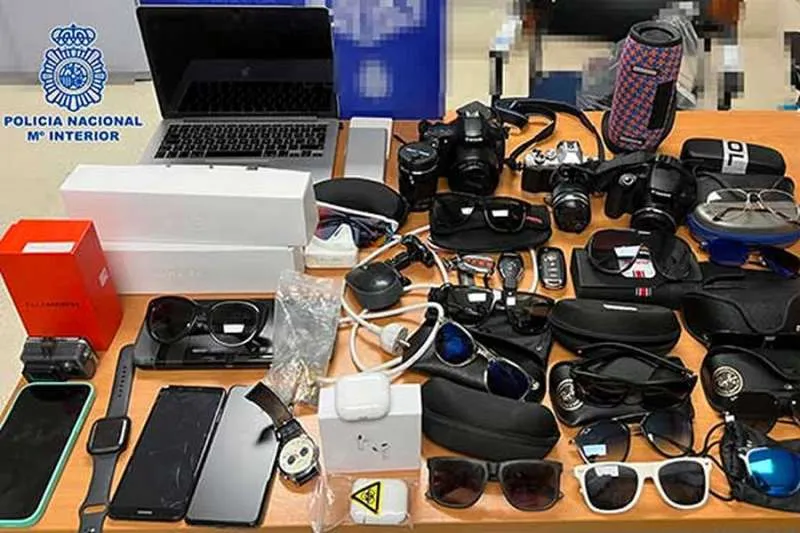 Man arrested selling over 12,000 euros worth of stolen items online
The National Police have arrested a 40-year-old man for breaking into cars in Los Cristianos in the south of Tenerife, and stealing items from inside them which he then put for sale online on various second-hand and auction sites.
The police confiscated and returned goods that were reported stolen worth almost €12,000 to their owners, linking him to at least seven thefts from cars parked in the Tenerife tourist resort, particularly rent-a-cars of holidaymakers.
After receiving a denuncia (official complaint to the police) from a male delivery driver, the National Police began an investigation as the man claimed that, while he was working, someone had gone into his car and stolen his mobile phone.
After investigation, the officers located the Smartphone which had already been sold to a third party through ads on social media. During this time, the agents' attention was drawn to the large number of items that the advertiser had put online, especially for electrical products, such as cameras, phones, tablets, smartwatches and laptops, and other items including sunglasses, watches, and car keys.
Their suspicions were not only raised by the volume of items for sale but also their price, as they were advertised for a much lower value than the real one, even for second-hand goods.
The police digital teams were able to link several reports of car break-ins and stolen goods with the items advertised for sale on the internet by this person, so were able to easily track him down and locate him to arrest him.
When they searched the man's apartment they found hundreds more items including a large number of technological devices of known brands; headphones, smartphones, smartwatches, professional cameras, laptops, jewellery, sunglasses, wallets, and many more accessories.
Currently, the police are trying to locate the owners of the objects to return them, but some of them are tourists who have already left the island.
Other articles that may interest you...