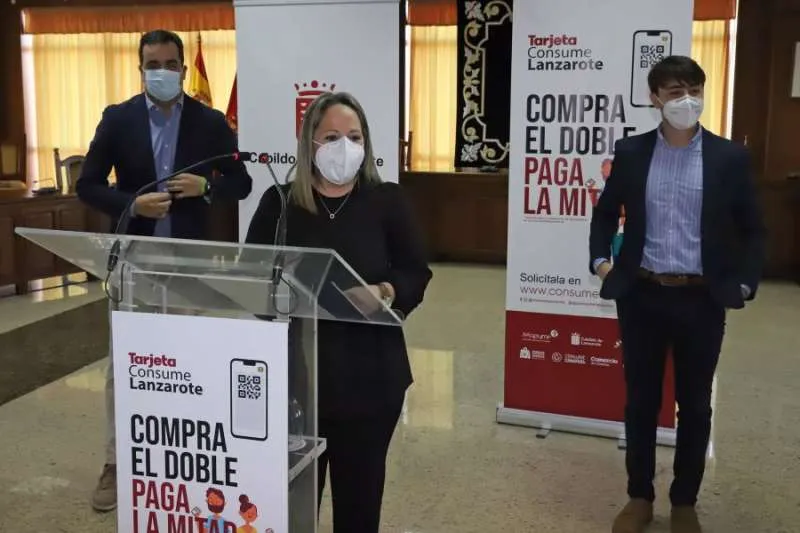 5,000 'cash' cards to help spending in small businesses in Lanzarote
The Regional Government, the Lanzarote Cabildo, and Felapyme (the Inter-Island Federation of Small and Medium Enterprises of the Canary Islands) have announced a new campaign starting next week, with a contribution of 258,000 euros from the Government, that is aimed at promoting spending in local businesses in the seven municipalities on the island.
The initiative is to help the recovery of small businesses in Lanzarote with 5,000 digital and physical cards that have a value of 60 euros to spend on them, that the public can buy for half price at 30 euros, giving a short term injection of 300,000 euros into the local economy.
The 150,000 euros is a non-returnable grant from the Government to fund the 'free' 30 euros that consumers receive, and the other 108,000 of their budget will be used for logistics, advertising, physical card, and staff for promotions.
The campaign, which seeks to aid the setback caused by the effects of the pandemic on the economy, is planned to be carried out in two differentiated phases, as announced in the presentation made yesterday at the Cabildo, with the Minister of Commerce, Carmen Guadalupe; the general director of Commerce and Consumption, David Mille Pomposo; and the secretary of Felapyme, Daniel González.
The first phase will start next Monday, January 31st, asking any businesses interested in taking part in the campaign, at no cost to them, to get more details at www.consumelanzarote.es, by calling 608 408 323, or by emailing: consumelanzarote@felapyme.org. Each business that signs up to the campaign, outside of large chains, will receive a distinctive sticker to display as an authorised business.
The second phase of the campaign is expected to start in early March when card buyers will be able to use them in businesses. It should be taken into account that each consumer will have the possibility of acquiring a maximum of four money cards each.
Other articles that may interest you...