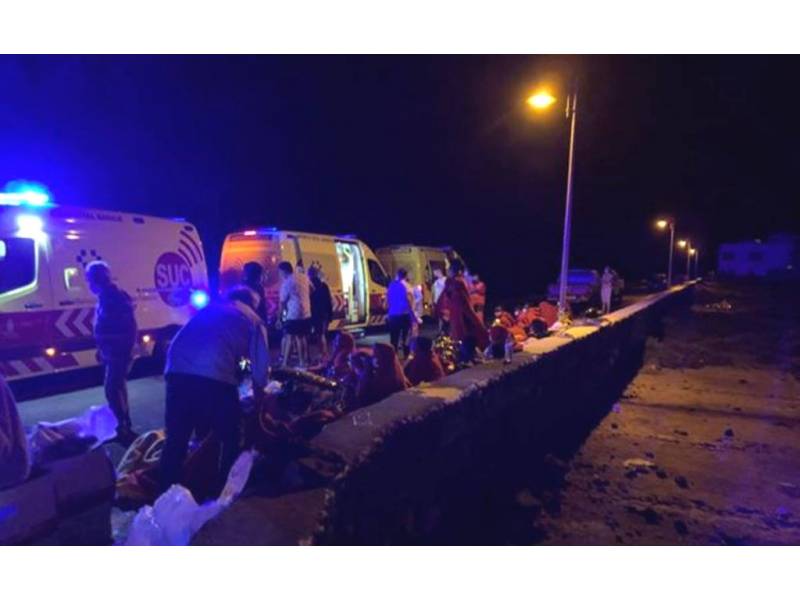 3 killed and 5 missing as boat capsizes off the coast of Lanzarote
Three people have been killed, including a pregnant woman, when an inflatable boat capsized with 49 occupants of sub-Saharan origin on board including women, children and babies. The tragic incident happened just before 10pm last night (Thursday) as the boat was approaching the Órzola pier in the north of Lanzarote, the same place that eight people were killed in November trying to reach the island.
The manager of the Island's Emergency Consortium, Enrique Espinosa, has confirmed that 49 sub-Saharan Africans were travelling on the boat, 41 have been rescued, 3 have been killed, and a further five are still unaccounted for.
Members of the fire-fighters, civil protection and different emergency services of Lanzarote, as well as residents of the area tried to help the occupants of the boat, whose cries for help could be heard from land, which is what alerted residents to the situation, in a rocky area located about 600 metres east of the port.
An emergency helicopter was dispatched last night to help with the search over the Condesa area using tracking lights, to try to locate the ones unaccounted for in the sea.
Espinosa has reported that at the moment, of those rescued, 20 are men, 10 are women, and the rest are babies and children. Several of them have been transferred to the Doctor José Molina Orosa Hospital in Arrecife to be treated for hypothermia, including a pregnant woman, and a small girl.
The search for the missing five people resumed at first light this morning, and it is reported that they include a baby whose mother couldn't physically keep hold of her when the boat tipped over.
113 irregular immigrants came to the islands yesterday:
This Thursday, 113 immigrants arrived on the coasts of the Canary Islands in two inflatable boats, six of them babies. The first group of 57 people, including three babies, a young girl and ten women (one pregnant), arrived by their own means at dawn in Lanzarote.
The second, made up of 56 immigrants, among whom there were also three babies and eight women, was rescued by the Salvamar Mizar rescue boat when they were adrift about 53 kilometres south of Fuerteventura.