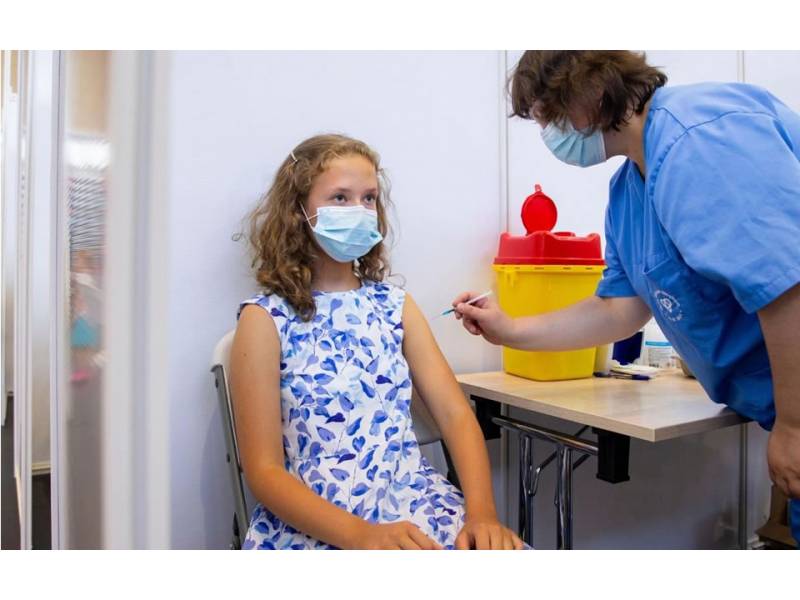 Covid update: 323 new cases; Green light for vaccination of 5-11 year olds
The Ministry of Health has reported that 323 new cases have been detected today in the Canary Islands, on the same day that Tenerife and Gran Canaria have been kept in Level despite a large increase in infections and incidence rates.
Of the new cases, 136 are in Tenerife, 124 are in Gran Canaria, 29 are in Fuerteventura, 19 are in Lanzarote, 13 are in La Palma, and 2 are in La Gomera.
The Committee for Medicinal Products for Human Use (CHMP) of the European Medicines Agency (EMA) has approved, in a meeting held this afternoon (Thursday), to approve the Pfizer vaccine against COVID-19 in children from 5 to 11 years old.
The dose will be lower than that used in people 12 years of age or older (10 ug as opposed to 30 ug), and will be administered in two injections into the upper arm muscles three weeks apart.
This decision comes amid a large increase in COVID cases throughout Europe, mainly due to poor vaccination coverage in some countries, and because children under 11 years of age have not yet been able to receive the vaccine.
In fact, in Spain, those under 11 years of age are the ones with the highest cumulative incidence rate over 14 days with 203.57 per 100,000 inhabitants, according to data published yesterday from the Ministry of Health, well ahead of the next group, which is people between 40 and 49 years old, which stands at 155.91.
Data for Thursday 25th November 2021:
(updates are against yesterday's figures)
New cases: 323
Tenerife: 136
Gran Canaria: 124
Fuerteventura: 29
Lanzarote: 19
La Palma: 13
La Gomera: 2
El Hierro: 0
Current Incidence rate (IA7): 83.78
(Cases last 7 days: 1,824)
Fuerteventura: 132.80
Gran Canaria: 84.39
Tenerife: 84.64
Lanzarote: 69.96
La Palma: 45.53
La Gomera: 41.52
El Hierro: 0.00
Current Incidence rate (IA14): 150.55
(Cases last 14 days: 3,276)
Fuerteventura: 242.21
Tenerife: 153.35
Lanzarote: 151.46
Gran Canaria: 146.34
La Gomera: 73.81
La Palma: 68.30
El Hierro: 8.97
General:
Covid patients in hospital: 197 (+7)
Covid patients in ICU: 29 (+2)
Home isolation: 2,491
R number: 1.17 (needs to be below 1)
PCR test positivity rate: 4.98% (should be below 4.5%)
Deaths last 24 hours: 0
Total deaths: 1,034
Vaccination: (No update today)
Total administered: 3,291,828
Fully vaccinated: 1,695,782 people (86.49%)
One dose: 1,697,331 people (86.56%)
Target: 1,960,774 (population over 12 years old)
Medical Discharges in last 24 hours: 178
Tenerife: 108
Gran Canaria: 124
Fuerteventura: 29
Lanzarote: 19
La Palma: 13
La Gomera: 2
El Hierro: 0
Total Active cases per island:
Total: 2,853
Tenerife: 1,196 (+28)
Gran Canaria: 1,197 (+88)
Fuerteventura: 251 (+20)
Lanzarote: 147 (-4)
La Palma: 47 (+12)
La Gomera: 14 (+1)
El Hierro: 1 (-)
Municipalities with most active cases in each island:
993 in Las Palmas (Gran Canaria)
653 in Santa Cruz (Tenerife)
177 in La Laguna (Tenerife)
125in Arrecife (Lanzarote)
124 in Arona (Tenerife)
115 in Puerto del Rosario (Fuerteventura)
93 in La Oliva (Fuerteventura)
85 in San Bartolomé de Tirajana (Gran Canaria)
82 in Adeje (Tenerife)
60 in Granadilla de Abona (Tenerife)
33 in Santa Lucia de Tirajana (Gran Canaria)
29 in Telde (Gran Canaria)
20 in Puerto de La Cruz (Tenerife)
16 in Mogán (Gran Canaria)
10 in Guia de Isora (Tenerife)
8 in San Miguel de Abona (Tenerife)
3 in Santiago del Teide (Tenerife)
(Please note this is not all municipalities, it represents the most infected and tourist areas)