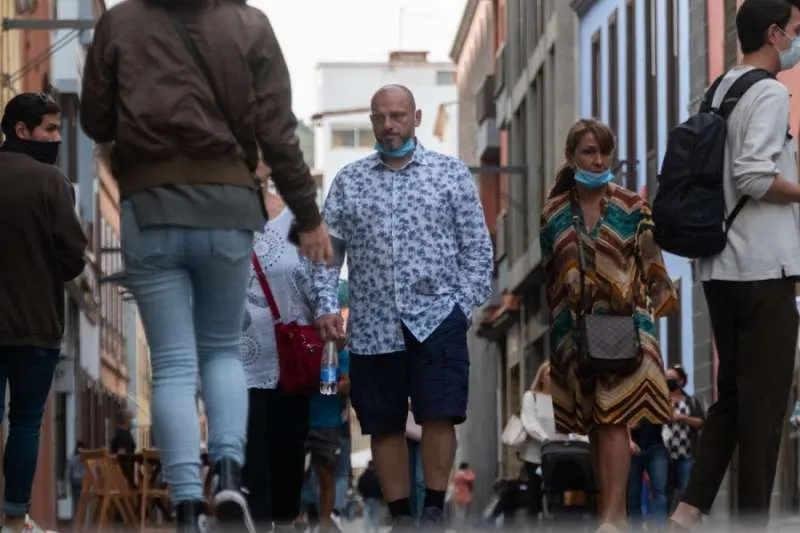 Covid update: The Canaries adds over 2,000 daily cases for the third day running
The Canary Islands have added 2,044 new cases of Covid today, the third day in a row with more than 2,000 daily cases since self-diagnosis positive test results are now included in the figures, taking the total accumulated cases since the start of the pandemic to 285,012 in the Islands, with 18,296 active, of which 45 are admitted to ICU and 303 are hospitalized.
In the last 24 hours the death of three people aged between 68 and 88 years old has been reported, one of which was reported in Tenerife, one in Gran Canaria, and another in El Hierro, although this one is pending validation by the General Directorate of Public Health. All had previous pathologies and were hospitalized.
The Incidence rates over 7 days for the islands have risen again, going from 305 just three days ago to 399.64 today, and 649.60 over 14 days. To date, a total of 3,241,216 diagnostic tests have been carried out on the Islands, of which 6,802 correspond to yesterday.
Data for Thursday 24th February 2022:
(updates are against yesterday's figures)
New cases: 2,044
Gran Canaria: 965
Tenerife: 824
Fuerteventura: 106
Lanzarote: 89
La Palma: 41
La Gomera: 15
El Hierro: 4
Current Incidence rate (IA7): 399.64
(Cases last 7 days: 8,696)
Fuerteventura: 451.84
Gran Canaria: 446.39
La Palma: 375.04
Tenerife: 386.49
La Gomera: 350.59
El Hierro: 215.30
Lanzarote: 214.36
Current Incidence rate (IA14): 649.60
(Cases last 14 days: 14,103)
Fuerteventura: 802.63
La Palma: 746.48
Gran Canaria: 723.54
El Hierro: 636.94
Tenerife: 600.90
La Gomera: 562.78
Lanzarote: 377.38
Other articles that may interest you...
General:
Covid patients in hospital: 303 (-4)
Covid patients in ICU: 45 (-)
Home isolation: 17,948
R number: 0.96 (needs to be below 1)
PCR test positivity rate: 20.90% (should be below 4.5%)

Vaccination:
Total administered: 4,271,027
Fully vaccinated: 1,741,183 people (83.01%)
One dose: 1,831,287 people (87.30%)
Children aged 5-11: 69,294 (50.61%) first dose and 20,155 (11.2%) second dose.
Booster doses: 828,820

Deaths last 24 hours: 3
Tenerife: 1 (860)
Gran Canaria: 1 (566)
El Hierro: 1 (8)
Total deaths: 1,566

Medical Discharges in last 24 hours: 1,157
Gran Canaria: 534
Tenerife: 426
Fuerteventura: 109
La Palma: 50
Lanzarote: 33
El Hierro: 3
La Gomera: 2

Total active cases per island:
Total: 18,296
Gran Canaria: 8,702 (+430)
Tenerife: 7,299 (+397)
Fuerteventura: 1,379 (-3)
Lanzarote: 445 (+56)
La Palma: 354 (-9)
La Gomera: 97 (+13)
El Hierro: 20 (-)
Municipalities with most active cases in each island:
6,413 in Las Palmas (Gran Canaria)
3,573 in Santa Cruz (Tenerife)
1,235 in La Laguna (Tenerife)
970 in Puerto del Rosario (Fuerteventura)
542 in Telde (Gran Canaria)
402 in San Bartolomé de Tirajana (Gran Canaria)
365 in Adeje (Tenerife)
328 in Arrecife (Lanzarote)
326 in Santa Lucia de Tirajana (Gran Canaria)
292 in Arona (Tenerife)
269 in Granadilla de Abona (Tenerife)
187 in Puerto de La Cruz (Tenerife)
118 in La Oliva (Fuerteventura)
113 in Guia de Isora (Tenerife)
106 in Mogán (Gran Canaria)
49 in San Miguel de Abona (Tenerife)
44 in Santiago del Teide (Tenerife)
(Please note this is not all municipalities, it represents the most infected and tourist areas)