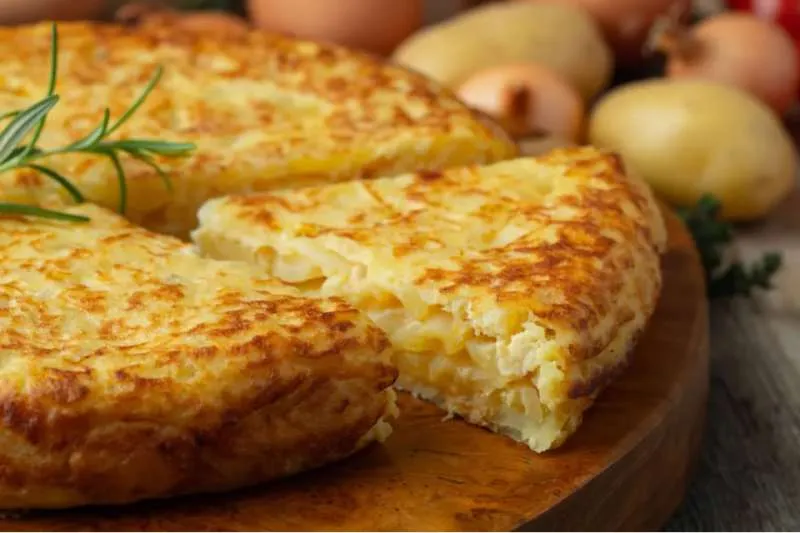 Today is international tortilla day, but why is it celebrated on 9th March?
The popularity of 'tortilla de patatas' is so widespread the dish now has its own day in the international calendar of special events, which is today, Wednesday 9th March.
If you've ever been anywhere in Spain or the Canary Islands, you will have seen tortillas in tapas bars, and cafes as it is one of the most popular dishes in the country.
In Spain, there is always debate about the correct way to make it... with onion or without, but there are many other options with peppers, tuna, tomato, or mushrooms, in fact, the number of possibilities are almost endless, it's just a matter of taste and imagination.
Tortilla is served hot or cold in Spain as an appetiser, accompaniment, in a bocadillo, or as a single dish, at breakfast, lunch, or dinner, but how it originally came about is still unknown.
Some theories suggest that it was invented in 1604 by a Belgian priest, Lancelot de Casteau, and others claim it originated in Spain after being invented in the town of Villanueva de la Serena in Extremadura at the end of the 18th century in 1798.
Tortilla is a very precious commodity in Extremadura and in summer they hold a fair with variations of the dish as the centre of attraction.
How to make a good tortilla:
These are the ingredients to make a typical Spanish Tortilla:
4 medium potatoes.
8 eggs, use the freshest available.
1 large white onion (you can use any other if you prefer).
Salt
Extra virgin olive oil: It is the least processed form of olive oil and helps to retain its natural vitamins and antioxidants that can be easily lost during processing. That is why we recommend using extra virgin olive oil instead of normal, it is healthier in every way.
Step 1. Start by cutting the potatoes into small cubes. Then, heat a good amount of extra virgin olive oil in a pan and place the potatoes. Remember to use enough olive oil so that the potatoes are completely covered.
Also, use a low flame so that the potatoes are well-cooked, this is how your Spanish tortillas will acquire a velvety texture and a delicious flavor.
Step 2. Don't neglect the potatoes, as they can over-fry if left in the oil for too long.
When the potatoes are fully cooked, drain them in a colander using a paper towel. This way, the towel will take most of the oil and the leftover oil can be used in other recipes.
Step 3. Once you are done with the potatoes, start with the onions, cut the onions into long vertical slices, and cook them with a little olive oil.
Sauté the onion slices over medium heat until they start to caramelize. This takes 15-20 minutes depending on the flame.
Note: If at any point the onion slices give off a burnt smell, add a little water. Doing this will prevent the onions from burning.
Step 4. Once the onions are caramelized, you can remove them from the stove and continue with the next steps in the recipe.
Step 5. Beat the eggs in a large bowl (better if they are at room temperature) and add a little salt.
Note: Use about 2 eggs per potato for the ideal flavor!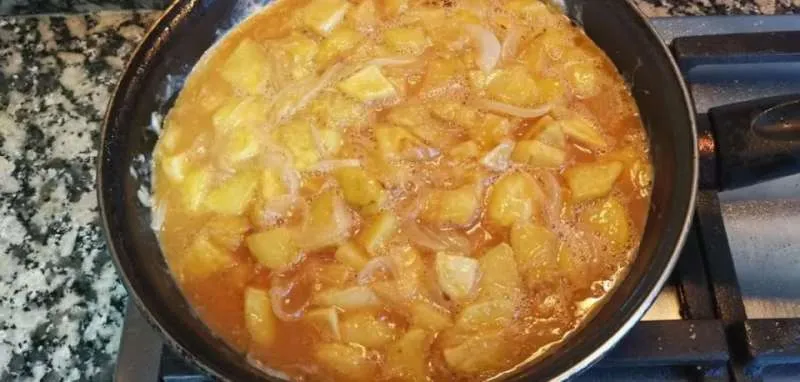 Step 6. Add the caramelized onions and potatoes to the beaten eggs and mix everything together. When everything is well mixed, let it rest for at least 15 minutes.
Tip: If you are cooking the potatoes and onions separately but at the same time, allow the potatoes to cool for about five minutes. This prevents the eggs from starting to cook.
Step 7. Spoon the tortilla mixture into the skillet gently over medium-low heat. DO NOT cook the Spanish Tortilla in an extremely hot pan, because it can burn and no one will want that.
The ideal time is about 6-8 minutes over medium heat, remember to pass a spatula around the corners to prevent the tortilla from sticking to the sides.
Step 8. Use a large plate or cloth to flip the tortilla. You should use a plate that is larger than the pan to turn it over to make it look good. It might be a little raw below, but that's the way it is before it's cooked again.
Step 9. Slowly slide the tortilla into the pan and allow the other side to cook over medium heat for an additional 6-8 minutes. If you like your tortilla well cooked, you can leave it a little longer before removing it from the pan.
Step 10. Flip the tortilla over again, but this time on a clean plate. Let it cool for 10 minutes before trying it, as the recipe tastes much better at room temperature.
Other articles that may interest you...